NEW YORK (CNNfn) - In a stinging rebuke, a federal judge Monday ruled Microsoft Corp. violated the nation's antitrust laws by using its monopoly power in personal computer operating systems to stifle competition.
    U.S. District Judge Thomas Penfield Jackson said the company "maintained its monopoly power by anticompetitive means and attempted to monopolize the Web browser market," which violates the Sherman Act. Microsoft also violated the Sherman Act by "unlawfully tying its Web browser to its operating system," the judge wrote.
    The decision, while expected, was a setback for Microsoft, which had hoped to reach an out-of-court settlement with the government. However, when those talks broke down over the weekend, Judge Jackson decided to release his so-called "conclusions of law."
    
---
Did the judge go too far? Take our poll.
---

    U.S. Attorney General Janet Reno praised the decision.
    "We are pleased that the court agreed with the department that Microsoft abused its monopoly power, that it violated the antitrust laws, and that it harmed consumers," Reno said. "Microsoft has been held accountable for its illegal conduct by a court of law." (371KWAV) (371K AIF)
    

"A strong case for appeal..."


    Microsoft officials vowed to appeal the decision.
    "While we did everything we could to settle this case, and will continue to look for new opportunities to resolve it without further litigation, we believe we have a strong case on appeal," Microsoft Chairman Bill Gates said in a statement. "The Appeals Court already has affirmed Microsoft's
    right to build Internet capabilities into the Windows operating system to
    benefit consumers."
    James Barksdale, the former chief executive of  Netscape Communications Corp., which was the catalyst for the government's lawsuit told CNN in an exclusive interview Monday that Microsoft should be broken up into smaller companies, similar to the way the government broke up long distance giant AT&T.
    "It would be a boon for shareholders," he said. "Multiple companies competing would create more value than one monolithic company." (483K WAV) (483K AIF).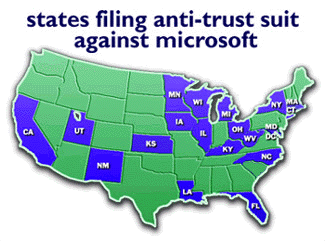 The charges were made in a lawsuit filed against the company by the government and 19 states in May 1998.
    Monday's verdict came less than 48 hours after the mediator in the case called an end to settlement talks, saying that the differences between the two sides "were too deep-seated to be bridged."
    
---
Click here for an after-hours quote
---

    Now that Jackson has handed down his verdict, the case moves into the remedy phase, during which he is expected to hear more testimony in order to decide what action should be taken against Microsoft to prevent it from abusing its monopoly power in the future.
    The negotiations between Microsoft and the government centered on remedies, and the mediator overseeing them has said that there were 20 different scenarios put on the table during the discussions.
    Among the possible remedies that Jackson will consider are imposing fines on Microsoft, restricting its conduct in the marketplace, and in the most extreme case, breaking up the company.
    Analysts said Monday's decision could spark a wave of lawsuits against the company from smaller firms who feel they've been harmed by Microsoft.
    "They could face a flood of lawsuits now," said Brian Goodstadt, analyst with Standard & Poor's. "Anyone who thinks they've been harmed by Microsoft can sue them. The company has a huge war chest to fight this, but it could be a long and expensive process."
    Microsoft (MSFT: Research, Estimates) shares were beaten down in Nasdaq trading Monday, ending the session 15-3/8 lower at 90-7/8, a 14.5 percent decline on the day. In after-hours trade, Microsoft's stock rebounded to trade at 92-7/16.
        -- from staff and wire reports.