NEW YORK (CNNfn) - The Justice Department and a group of state attorneys general asked a federal court Friday to split Microsoft into two separate companies, a move that could reshape competition in the software industry.

The Justice Department and 17 of the 19 states that had filed a landmark antitrust lawsuit against Microsoft (MSFT: Research, Estimates) proposed the split in a joint proposal filed Friday with District Judge Thomas Penfield Jackson. Earlier this month, Jackson ruled that Microsoft had maintained its monopoly power for PC operating systems by anticompetitive means and attempted to monopolize the Web browser market.

Ohio and Illinois parted with the other 17 states by recommending that the court try to rectify Microsoft's anti-competitive behavior through restrictions on its business practices. Those two states advocate breaking up Microsoft only if  those restrictions fail to restore competition in the operating system market within three years.

"We are proposing these remedies because the law was broken - as Judge Jackson concluded so powerfully - and because the violations seriously harmed consumers and competition," said Iowa Attorney General Tom Miller, head of the Microsoft working group of 19 states.

The joint proposal calls for Microsoft to be split into two competing entities - one to contain its Windows operating systems, which run most of the world's personal computers, and another to contain the rest of its business lines, including the popular Microsoft Office suite of applications. Under the proposal, the two companies would be prohibited from recombining for at least 10 years, and they would have separate boards of directors.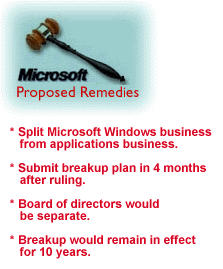 The operating systems company would be able to retain the existing code for Microsoft's Explorer Internet browser, but would have to develop its own browser to compete with Explorer in the future.

Microsoft would have to submit a breakup plan within four months after Judge Jackson rules. The federal government and the states would have 60 days to submit objections to Microsoft's plan, and Microsoft would have 30 days to respond to those objections.

The proposed split wouldn't go into effect until Microsoft had exhausted its appeals to higher courts. However, the Justice Department and the states proposed a series of restrictions to Microsoft's business practices that would be implemented immediately - if approved by Judge Jackson - and left in place for three years.

"Under our proposal, neither ongoing government regulation nor the self- interest of an entrenched monopolist will decide what is best for consumers," said Joel Klein, assistant attorney general and the nation's top anti-trust enforcer. "Instead, consumers will be able to choose for themselves the products they want in a free and competitive marketplace."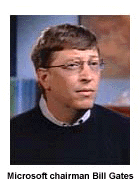 "These proposals will have a chilling effect on innovation in the high technology industry," Microsoft Chairman Bill Gates said in a statement. "Microsoft could never have developed Windows under these rules. Looking forward, this kind of regulation would make it impossible for Microsoft to develop the next generation of great software."

The proposed restrictions on Microsoft's business practices would prohibit the company from punishing computer companies working on products that compete with Microsoft's. Along the same lines, Microsoft wouldn't be able to favor computer companies and software developers that helped Microsoft to exclude competitors.

Microsoft would be prohibited from bundling its operating system with its browser software unless computer users or computer makers could remove the browser. Finally, the software giant would have to disclose technical information to competing software developers that would allow those developers to write programs compatible with Windows.

"These conduct restrictions are necessary to allow the structural remedy sufficient time to restore competitive conditions in the software industry," Justice's Klein said. "These provisions include prohibitions on the conduct specifically found illegal by the federal district court." (524K WAV) (524K AIF)



First big breakup since Bell



The proposed remedy against Microsoft marks the first time that the government has tried to break up a major corporation since the Bell System telephone monopoly was divided into eight companies in 1984. If the breakup becomes a reality, it could cause significant shifts in the dynamics of the computer and software industries. Securities analysts are unclear about how it would impact the software giant's current $356 billion market value.

In the nine months ended March 31, Microsoft derived $7 billion, or 41 percent, of its $17.15 billion in revenue from its Windows operating systems. It derived $7.8 billion, or 46 percent, of its revenue from productivity applications, such as its Office suite, and software developer tools. The remaining $2.3 billion, or 13 percent, of its sales came from its Internet properties, such as the Microsoft Network, game software, keyboards, and mice.

Microsoft is estimated to have an 82 percent share of the market for personal computer operating systems and a 94 percent share of the market for office applications, such as word processing and spreadsheets. The company has become so dominant in those two markets that its revenue growth rate has started to slow dramatically from its average over the past five years.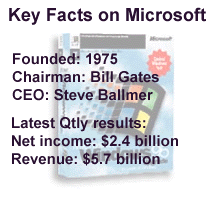 The proposal to split Microsoft into two companies is designed to break down what Judge Jackson called the "applications barrier to entry" to creating a new software operating system. No company has produced a viable alternative to the Windows operating system for Intel-compatible personal computers because software developers generally write applications only for an operating system that is already used by most PC users. At the same time, computer users don't want to invest in an operating system unless that system will support all the applications they want to use.

In a press conference Friday, Justice's Klein said that the split-off applications division of Microsoft would have an incentive to make Microsoft's Office suite - 100 million copies of which are in use - available for other operating systems, such as Linux. Thus, Office would become the "killer application" enabling those other operating systems to compete with Windows.

"Much like the browser was in 1995 before Microsoft declared war, Office has the very real potential to be a cross-platform middleware threat to the dominance of the Windows monopoly," Klein said.

Computer and software industry analysts say that such an outcome is far from certain, however. A version of Office already is available for Apple's operating system, and Linux doesn't have a user-friendly interface that would make it appealing to most PC users.



Microsoft response due May 10



Under Judge Jackson's current schedule, the Redmond, Wash.-based software giant has until May 10 to respond to the remedy proposed by the federal government and the states. The federal government and the states then have until May 17 to file a rebuttal, and Judge Jackson is scheduled to hold a hearing on the proposed remedies on May 24. However, Jackson may extend that timetable because of the complexity and severity of the Justice Department's proposed remedy.

Even if Judge Jackson backs the proposal to split Microsoft into two companies, such a division is far from becoming reality. The company has vowed to have the case reviewed by an appeals court, which had previously overturned a ruling by Judge Jackson that is a central issue in the antitrust battle. In June 1998, the appeals court wrote that Microsoft could combine its Web browser software with its Windows operating system without facing charges of tying if it could show a benefit to consumers from integrating the two products.




William Neukom, Microsoft's general counsel, said that the government's proposals "bear little relationship to the case it presented at trial" and that they aren't supported by the evidence.

"The case has always been about browser software, not spreadsheets and word processors," Neukom said in a statement.

Earlier this week, Microsoft chief operating officer Steve Ballmer sent an e-mail to employees intended to boost  morale. In addition to announcing new stock options, Ballmer said he was confident that the company eventually would win the antitrust case and that the company would not be broken up.

"This company, which has done so many great things for consumers and the American economy over the last 25 years, will not be broken up," Ballmer wrote. "No matter what the newspaper headlines say, absolutely nothing in the current case justifies breaking us up."
-- Click here to send email to David Kleinbard