NEW YORK (CNNfn) - Taking aim at one of its chief rivals in the market for Web servers, IBM on Thursday is expected to roll out a new line of products which it says lays down a new threshold for price and performance.

Big Blue will formally introduce a new family of midrange-priced servers designed to run the UNIX operating system which use the same semiconductor technology that has proven quite successful on the higher end.

In doing so, executives at IBM's server division are hoping to edge out Sun Microsystems, currently the leading vendor in that space.

"They're going to be much more competitive in going after Internet service providers and Sun's customers," said Sam Albert, president of Sam Albert Associates, an information technology consulting firm in Scarsdale, N.Y. "They're going all out to win in that marketplace."

The new servers are built using "copper" chips, which are smaller, faster and run cooler than their predecessors.

The chips' transistors are connected using copper wiring, which conducts electricity more efficiently than aluminum, the material that is used in most other computer chips. Chips that are made with copper interconnect technology can use much thinner wires, and each one can hold more transistors, allowing them to pack more processing power into a smaller package.

IBM (IBM: Research, Estimates) first started using the copper chips in its higher-end RS/6000 S80, the flagship of its UNIX server line, last fall. Executives at IBM say those systems have been outselling Sun's competing server, the E10000, by 3-to-1.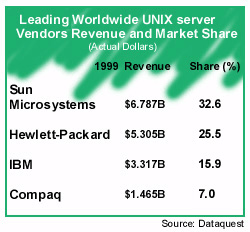 Even so, Sun has been outdoing IBM in the mid-price range, garnering roughly 32.6 percent of the global market share to IBM's 15.9 percent, according to Dataquest.

With a starting price of $290,000, the S80 is the priciest model in IBM's RS/6000 line. Now, IBM is moving the copper technology into the lower cost models in the RS/6000 line: the F80, starting at $18,995; the H80, which is priced from $21,995; and the M80, which starts at $67,995.

"We're taking the technology we use in our high-end server, the S80, and bringing it down into the sweet spot of UNIX, which is the mid-range space," Mike Maas, IBM's director Web server products said in an interview with CNNfn.com.

"We expect that the same type of change that took place in the market on the high end you're going to see play out over the next couple of quarters in the mid-range," Maas added.

All three of the new RS/6000 servers outperform competing Sun servers at lower list prices, Maas said.



Sun shrugs it off



And the higher performance and lower prices combined with the systems' smaller sizes give IBM some very strong selling points especially to Internet service providers, according to Jean Bozman, director of research for technology research firm International Data Corp.'s server group.

"A lot of the people that are buying UNIX servers are ISPs, and this tailors the product to their needs," she said. "There is a premium on data center real estate, and they want to pack as much power into as little space as possible. These models do that."

A Sun (SUNW: Research, Estimates) spokeswoman shrugged off the news Wednesday evening. Since IBM's new units have only six and eight processors, they don't really compete with the company's mid-range UNIX product line, she said.

"We are always watching the competition, but we don't see this as a threat," she said. "From what we can tell, these are all competing against our low-end systems. Our mid-range goes up to 30 processors. They took their eye off the UNIX ball about four years ago, and Sun never wavered. So they're where we were four years ago."

But IBM is pitting the M80, which is an 8-way, or 8-processor, server, against Sun's E4500 and E6500; the 6-way H80 against Sun's E3500; and the 6-way F80 against Sun's E450. All of the new servers are smaller and offer more performance at a lower price, Maas said.

For its part, Sun currently has copper chip technology at work in its laboratories, and the company is expected to unveil the latest of its UNIX server processors, the UltraSPARC III, sometime this year. Sun executives, however, would not provide any details about the new chips or the time frame under which they are expected to hit the market.

Meanwhile, IBM will be selling its newest servers to its existing customer base, while becoming more aggressive in pursuing new ones.

"You have to remember that there are thousands of users in their installed base," said Dataquest's Bozman. "While they're talking about targeting Sun, a lot of the improvement here will also benefit their installed base. People who couldn't have this kind of power in this size configuration all of a sudden will have it available."



Dot.coms turning blue?



And IBM already has landed at least one new major dot.com customer, according to Maas.

Network Solutions (NSOL: Research, Estimates), which administers the Web's largest domain-name database, has agreed to purchase 20 of the new M80 servers to help it handle the vast amount of data that flows through its systems.

Each time a user requests a Web page using the familiar dot.com, dot.net and dot.org suffixes, that request is channeled through systems maintained by Network Solutions and other domain-name registrars. Those systems then route the user to a numeric address which is used to identify the Web server on the Internet.

"We have an application that is very processor intensive, and the IBM M80 seems like it's the right box to fit into that environment for all of its characteristics," Bruce Chovnick, general manager of Network Solutions registry unit, said in an interview.

"The application we're using it for requires fewer processors of higher power, as opposed to lots of processors in one box," Chovnick added. "The M80 is a very fast processor and it does the job really well in the very high-intensive computing environment that we need for the name servers on the Internet."

Network Solutions will use the M80s to support an S80 the company recently purchased to serve as its primary domain-name server, Chovnick said.