WASHINGTON (CNNfn) - Calling the world's largest software maker "untrustworthy," a federal judge Wednesday ordered Microsoft to be broken into two smaller companies to prevent it from violating state and federal antitrust laws in the future.

In a scathing memorandum that accompanied his 14-page decision, U.S. District Judge Thomas Penfield Jackson said he was ordering the breakup because the company was totally unwilling to admit that it had violated federal antitrust law and has shown no willingness to modify its business conduct.

The court has "reluctantly come to the conclusion that a structural remedy has become imperative: Microsoft as it is presently organized and led is unwilling to accept the notion that it broke the law or accede to an order amending its conduct," the judge's memorandum said.

If Judge Jackson's breakup order survives the appeals process, it would be the largest court-initiated split since AT&T agreed to be broken into a long distance company and seven regional phone companies under a 1984 consent decree.


---
Click here to read the full text of the judge's ruling
---


Jackson ordered Microsoft to be divided into a PC operating systems company, and a company that holds the remainder of its business, including its dominant Office suite of applications, the Internet Explorer Web browser and other businesses. While Jackson delayed the implementation of a split until Microsoft has exhausted its appeals, he required the company to draft a plan for how it will accomplish the breakup by Oct. 7, 2000.

Microsoft immediately vowed to appeal the decision, a process which could take up to two years, depending on whether the Supreme Court agrees to hear the case before a federal appeals court does.


VIDEO

CNNfn's Bob Beard reports on the likely course of the appeals process and Microsoft's strategy.
Real
28K
80K
Windows Media
28K
80K
"This is the beginning of a new chapter in this case," Microsoft Chairman Bill Gates said in a video statement. "We will be appealing this decision, and we have a very strong case on appeal. This ruling is inconsistent with the past decisions by the appeals court, with fundamental fairness and with the reality of the marketplace." [548K WAV or 548K AIFF]

The Justice Department plans to ask for an immediate review by the Supreme Court. If the high court agrees to review the case, it could speed the process. Justice also prefers the Supreme Court route because an appeals court favored Microsoft in a previous antitrust action against the company.

Joel Klein, Justice's lead antitrust enforcer, laid the responsibility for Wednesday's ruling squarely on Microsoft's top executives.


"Microsoft itself is responsible for where things stand today," Klein said. "Its repeated illegal actions were the results of decisions made at the highest levels of the company over a lengthy and sustained period of time. They reflected defiance of, not respect for, the rule of law." (412K WAV 412K AIF).

In his memorandum accompanying the final ruling, Judge Jackson also noted that Microsoft had thumbed its nose at the law in the past.

"In earlier proceedings in which a preliminary injunction was entered, Microsoft's purported compliance with that injunction while it was on appeal was illusory and its explanation disingenuous," Jackson said.

Jackson's ruling also imposes a series of restrictions on Microsoft's conduct, which take effect in 90 days and remain in place for three years as the case moves through the appeals process. Microsoft is expected to immediately ask for an injunction against those measures.


---
Click here for full video coverage of the Microsoft ruling
---


The restrictions are designed to prevent Microsoft from using its monopoly power over PC operating systems to crush competing software products that threaten to disrupt its monopoly position. Judge Jackson previously concluded that Microsoft undertook a campaign to eliminate a threat it faced from "middleware," such as Netscape's Web browser and Sun Microsystems' Java technologies. Middleware is software that operates between an operating system and another type of software application.

The restrictions prohibit Microsoft from punishing hardware and software companies working on competing products. Along the same lines, Microsoft wouldn't be able to favor computer companies and software developers that helped Microsoft exclude competitors. Other interim provisions include:


Requiring Microsoft to license Windows to PC makers under uniform prices and terms according to a schedule accessible to the government and those PC makers;
Barring Microsoft from interfering with the way PC makers set up start-up screens, the Windows desktop, preferences, and Internet connection wizards;
Requiring the company to disclose technical information about its operating systems to independent hardware and software companies so that those companies can design products that are compatible with Windows;
Prohibiting Microsoft from degrading the performance of "middleware" made by other companies;
 And restricting the company from binding middleware products, such as a Web browser, to its Windows operating system unless access to that middleware can be removed by PC makers or end-users.




A house divided



In his findings of fact in the case, Jackson also concluded that Microsoft attempted to monopolize the Web browser market and unlawfully tied its Web browser to its operating system when it issued Windows 98.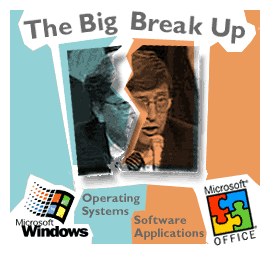 Microsoft felt especially threatened by Netscape's Web browser and Sun Microsystems' Java programming language because they could be used to write applications that can run on multiple operating systems, Jackson found. Under the breakup order, Microsoft's operating systems business would be prohibited from distributing new versions of Microsoft's Web browser software.

The split companies also would be barred from sharing officers and directors, and one company would be prohibited from owning stock in the other.

The separated companies also would be barred from sharing important programming tools called Application Programming Interfaces unless those APIs were also made available to independent software and hardware vendors.



An ongoing Odyssey



Microsoft's latest legal odyssey began in October of 1997 when Attorney General Janet Reno accused the company of using its dominance in the Windows operating system market to squash archrival Netscape Communications in the fast-growing Internet browser market.

Throughout the trial, Microsoft and its legal team adopted a defiant tone, criticizing the government's case at every turn and challenging some of the judge's earlier rulings.

While Microsoft managed to score a few victories with the Appeals Court, it suffered in the court of public opinion, particularly when government lawyers used e-mails from Microsoft executives to contradict Gates' videotaped testimony about a crucial June 1995 meeting in which government attorneys claimed Microsoft tried to persuade Netscape to divvy up the Internet-software market.




Netscape eventually was acquired by America Online, which currently is in the process of merging with Time Warner Inc., the parent company of CNNfn.

If Microsoft does not prevail in having the restrictions on its business practices postponed pending its appeal, some industry participants said there could be some substantial changes in the way PC makers market their products. As an example, PC makers would be free to configure the Windows desktop in ways they previously were prohibited by Microsoft from doing. End users would have more freedom to use or reject components of software offered by Microsoft.

"Microsoft would no longer have guaranteed placement on users' desktops," said Chris Le Tocq, an analyst with the Gartner Group. "That would mean its ability to leverage the desktop in terms of selling other services would be severely reduced, or it would have to negotiate directly to get that leverage."