NEW YORK (CNNfn) - Intel Corp. on Tuesday reported a second-quarter operating profit that was slightly ahead of Wall Street's expectations, as strong PC and server demand and better-than-expected manufacturing performance led to a 23 percent increase in sales.

And executives at the world's largest semiconductor supplier said they see demand continuing through the remainder of the year.

Excluding acquisition-related costs, Intel reported net income of $3.5 billion, or 50 cents per share. That's up 98 percent from last year's second quarter, and up 16 percent from the company's first-quarter results.

But a number of unusual items were included in Intel's earnings this quarter. The company included a $2.3 billion gain on investments when calculating its second-quarter earnings-per-share results. The results also accounted for a $200 million charge to cover costs associated with a motherboard replacement program.

The latest results also have been adjusted to reflect a 2-for-1 stock split payable July 30 to shareholders of record on July 2.

On a pre-split basis, Intel posted operating earnings of $1 per share, 2 cents ahead of the 98 cents per share analysts polled by earning tracker First Call had expected.

Second-quarter revenue rose 23 percent to $8.3 billion from the same period last year.


Intel (INTC: Research, Estimates) shares fell 3-5/16, or 2.3 percent, to 143 in Nasdaq trade ahead of the announcement. They were trading at 145-7/8 in after-hours activity.

That puts Intel shares near their 12-month high of 147-1/2 and well above their low of 62-3/4.


---
Click here to see which stocks are moving in after-hours trade
---


Including acquisition-related costs, Intel's second-quarter net income was $3.1 billion, or 45 cents per share, up 25 cents per share in the second quarter of 1999 and up 15 percent sequentially.

Executives at Intel in Santa Clara, Calif., attributed the most recent quarter's strong results to better execution at the company's manufacturing plants and strong demand for its semiconductor products, including microprocessors and flash memory.

They also said they expect strong demand to continue in the second half, which is typically the chip industry's strongest.

Although he did not provide specifics, Andy Bryant, Intel's chief financial officer, said the company's revenue would be "up" in the third quarter.

In an interview on CNNfn's Moneyline News Hour Tuesday, Bryant elaborated somewhat, saying that demand across all of Intel's product lines going into the third quarter is stronger than it historically has been. [141K WAV or 141K AIFF]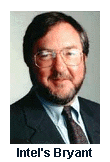 As for the financial results, Bryant said Intel's 23 percent increase in revenue exceeded the company's estimates and told analysts during a conference call that "with or without the unusual gains and charges, earnings growth was substantial."

During the quarter, Bryant said Intel shipped record numbers of microprocessors and well as flash memory chips, which are widely used in wireless phones and other portable electronic devices.

The company's transition to a 0.18-micron manufacturing process, which yields more chips for each silicon wafer produced, helped Intel meet the surging demand during the quarter. But he emphasized that the company is still scrambling to meet demand.

"We expect demand to continue to be strong and product supply to continue to be tight," Bryant said. "We're still chasing capacity at this point in time. We're seeing strong demand for flash, networking and microprocessors, and I don't see when that gets into equilibrium."

The company is on track to have 90 percent of its plants running on the 0.18-micron manufacturing process by year's end, according to Paul Otellini, executive vice president and general manager of Intel's architecture group.

Ashok Kumar, an analyst at US Bancorp Piper Jaffray, said he expects the capacity crunch to ease somewhat by the fourth quarter. "They should get out of this capacity constraint situation by September," he said.



Expect higher margins, new products



Intel expects its gross margin for the third quarter to be between 63 and 64 percent, up from 60.4 percent during the second quarter. Based on first-half results and current expectations, the company said it expects gross margins for 2000 to be 63 percent, plus or minus a few points.

The company also expects interest and other income for the third quarter to be about $800 million.

Some analysts characterized the company's most recent results as a turning point for Intel, forecasting a much stronger second half.

"I think a lot of people were a bit nervous about this quarter and there might be a bit of a collective sigh of relief that they pulled it out and that should be viewed positively," said SG Cowen's Drew Peck. "The second half of the year is likely to be a whole lot better."

The second half of the year is typically the strongest for the semiconductor industry as demand for PCs and other electronics increases during the holiday and back-to-school seasons.

This year, Intel also expects to begin shipping two major new products during the second half as well.

The company plans to release its Pentium 4 chip, formerly code-named "Willamette," which can run at a speed of as much as one gigahertz, during the second half.

Intel also plans to begin shipping its 64-bit Itanium processors. Current Pentium-class processors are 32-bit microchips, meaning they can crunch binary numbers that are 32 digits long. The Itanium chips can handle strings of ones and zeros that are 64 digits long, meaning that more complex software programs can be handled far more quickly and efficiently.

Intel said it will soon begin shipping Itaniums for systems used by IT end-users in pilot installations. But the company now expects to begin recording revenue for Itanium processor shipments during the fourth quarter, rather than the third.
-- from staff and wire reports