NEW YORK (CNNfn) - It was late last year and Daniele De Francesco, a senior at Massachusetts Institute of Technology, was being courted by every high-tech firm in the country.

His double major in computer science and electrical engineering - not to mention his 4.8 grade point average - was worth nearly "six figures" to corporate America, it seemed, at least according to the pre-graduate offers he was getting.

De Francesco knew his passion lay in the telecommunications field. He was interviewing for jobs between classes and term papers. He was weighing his options. He was ... bored.

"It was really disappointing because nothing was exciting to me," the Italian-born 21-year-old said. "Every company I interviewed with had big plans and there was a lot being said, but when you got into the company they were just doing boring things."

In March, De Francesco decided to do something about it.

He and four other MIT seniors - still three months away from graduation day - agreed to bypass promising posts in corporate America to start up Lobby7 in
Boston.  The company, which already has 20 employees and a growing client roster, builds tailor-made wireless application solutions for businesses looking to catch the mobile Internet wave.

"This wasn't planned at all," De Francesco admitted. "I was against starting my own company. I figured if you didn't have a great idea, why do it? Then, a great idea came along and we just realized that, together, we knew more about this than almost anyone. Every time we'd attend a trade show or conference to learn more about the industry we had people asking us questions, not the other way around."



Comp sci prospects



Labor market trend watchers say De Francesco is not alone. With demand for students with a computer science background surging, and supply remaining tight, thousands of recent grads are breaking out and becoming entrepreneurs right out of the gate.

"I've seen a lot of comp sci grads go right into the business world, particularly in the dot.com sector," said Ed Gilbert, a long-time corporate recruiter and president of Computercareerhelp.com. "They usually conceive of an idea during their studies, they secure capital and they go straight from graduation to CEO. That happens fairly frequently."

Whether they become the business owner or accept a starting position with an employer, it's no secret college-level computer skills command top dollar in today's tight labor market.

According to the National Association of Colleges and Employers, starting annual salaries this year for college grads holding a bachelor's degree in computer engineering averaged $49,505, while those with a bachelor's degree in computer science took home $48,740. Entry-level computer programmers earned roughly $40,800, information science majors earned $38,900 and those with a management information systems degree made $41,800.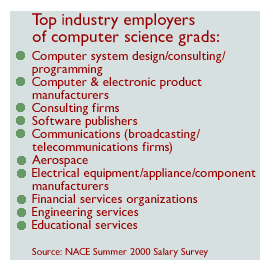 The starting offers for computer science majors and computer engineers are up nearly 10 percent over last year.



(Visit CNNfn's Career page and scroll to the bottom for our salary sample - a list of average annual salaries broken down by occupation and city.)



And, if that's not enough, the Bureau of Labor Statistics reports that computer systems analysts, computer engineers and computer scientists are projected to be the fastest growing occupations through 2008.

"Vacancy rates in the Information Technology (IT) and computer science jobs are through the roof," said Paul Harrington, co-author of The College Majors Handbook and associate director of the Center for Labor Market Studies at Northeastern University. "The reason it's so intense is that the domestic labor supply isn't enough and U.S. companies are now having to go overseas (to track down talent). This looks like a permanent feature in this field."

As might be expected, the most common places computer science graduates land are computer systems and design and consulting firms, software publishers and communications companies. Financial services organizations, along with aerospace concerns, also scout regularly for qualified grads.

The Labor Department reports that the greatest concentration of these workers is in the computer and data processing services industry, including those involved in custom computer programming services and applications/systems software design, the design development and production of prepackaged computer software;

The largest industries employing systems analysts are telephone communications, federal government, computer and data processing services, state government (except education and hospitals), and colleges and universities.   

Services include customized computer programming services and applications and systems software design; the design, development, and production of prepackaged computer software; systems integration, networking, and reengineering services; data processing and preparation services; information retrieval services including online databases and Internet services; on-site computer facilities management; the development and management of databases; and a variety of specialized consulting services.

That doesn't mean every student will land their dream job immediately after they graduate, however. But the best way to break into the industry, Harrington noted, is obvious.

"The trick for these people, when you have a degree in a specific field, it's very important for you to get a job that utilizes skills in your field," Harrington said. "The world works the way you think it does. If you have an accounting degree, get an accounting degree or your degree won't pay off for you. The trick is to get plugged into your field very, very fast."

That may mean accepting a job with a smaller division of the company you ultimately hope to work for. These days, large companies, burned by bad hiring decisions over the years, increasingly are creating smaller subsidiaries to try-out employees for a year or two before recruiting them into the parent company.

Keep in mind, too, that students who develop occupational efficiencies, either through internships or summer jobs, command an instant 10 percent premium at entry-level over their counterparts who didn't.



Other ways to put your skills to work for you



The vast majority (78 percent) of students who graduate with a comp sci degree end up in a related field - not surprising, considering the salaries.

But many others prefer to leave their skills at the door, as a sort of plan B.

They opt for educational jobs, non-profits and self-employment. More than 90 percent of all employed computer science grads regularly perform computer applications, programming, and systems-development duties at work; and 66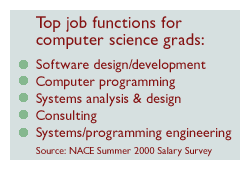 percent spend most of their time at work in these activities, according to The College Majors Handbook.

But what about those who burn out after five years in the work world and are looking for a change? Or, worse yet, students who burn out of the field before they even receive their diploma? How can they apply their skills?

"The good news is these skills apply to almost anything," Gilbert said. "A very creative way to utilize their degree, especially for people who have had a previous career life, is to integrate it with their background. The bulk of comp sci majors do go into development. However, once presented with an examination of what they've done before (in terms of jobs) and how that can be dovetailed into a new profession, there's usually big excitement."

The health care and financial services arena are both hot fields for those looking to do something different with their hard-earned, not to mention expensive, diplomas. But Gilbert said it's important to think outside the box. Don't sentence yourself to a life of software coding if you hate it, no matter how much money you can make.

"I would say a very good place to start as a new grad is to look back on the projects that you worked on in school, particularly the ones you enjoyed," he said. "Then look to your own personal interests and apply your skills to that industry. A person could be a former baker and there's going to be a need for application developers in that field too." 

De Francesco said that was his approach, and it's led him in the right direction.

"You have to love your job," he said. "I'm very passionate about what I do. So far, it's going great."