NEW YORK (CNNfn) - Though it tacitly hints of turbulence in the executive ranks, the Coca-Cola Co.'s unusual statement declaring its aborted pursuit of Quaker Oats contains an early Thanksgiving hug for CEO Douglas Daft, analysts say.

Last night, Coke dropped its $14 billion offer for cereal and sports drink producer Quaker Oats Co. But in a sparsely worded press release, the company went out of its way to express support for Douglas Daft – "Doug," they called him – Coke's chief executive of just 11 months.


"The Board of The Coca-Cola Co. expressed its enthusiastic support for the current strategic course of the company under Doug Daft's leadership as the best means for enhancing shareowner value," it said in the second sentence of a two sentence statement released just after 10 p.m. ET Tuesday.

By making public its support of Daft, did not the board suggest that things might be amiss in the corner offices of Coke's Atlanta headquarters?

Perhaps, if this weren't Coke  (KO: Research, Estimates) in question. The aborted quest, and public statement, come just short of a year after Douglas Ivester stepped down as CEO of Coke, under a cloud of concerns about the company's image and fiscal performance.

Analysts, while agreeing the words may have been better off unsaid, insist that the comment was meant as a pat on the Daft's back, from a board that has chosen to be very active in the company's decision making process.

"They put it in as a sort of reassurance that notwithstanding what just happened, 'we still love Doug Daft,'" said Manny Goldman, analyst with ING Barings in San Francisco. "'He's the kind of person who we want running the company', is what they are saying."

So far Daft, 56, in December 1999 appointed as CEO of the world's largest beverage company, and chairman two months later, has been a fence mender and a winner with a board populated with heavy hitters, including investor Warren Buffet, former Delta Airlines CEO Ron Allen, and former U.S. Sen. Sam Nunn.

But this deal, a $14 billion shopping trip for Quaker Oats (OAT: Research, Estimates), whose Gatorade unit is a gem also sought after by Coke rival PepsiCo Inc., was not a hit with the directors, whom analysts say could not be convinced to back the deal.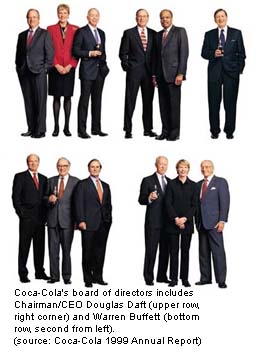 "We were quite surprised when Coke bid last Friday, but it was a defensive move meant to keep Gatorade out of Pepsi's hands," said analyst Bill Pecoriello of Sanford Bernstein & Co. "It's a little embarrassing for him [Daft] because he lobbied hard for this and couldn't pull the board together after a five-hour meeting."

But experts said the board's decision was the right one, considering the risks: difficulty integrating Quaker's bulky, slow growth non-beverage operations; the questionable future of Coke's healthy Powerade line; and an uncertain path toward clearing anti-trust challenges.

"I don't think Daft or anyone would want to stick their heads out there now with the regulatory environment being what it is," said Caroline Levy of UBS Warburg. "This may have hurt him, but I don't think the board can afford not to rally behind him at this point."



Reinvigorating Coke after Ivester's exit


Daft is charged with being the kind of person that can reinvigorate a company bruised by scandal, sluggish profit growth and the residue left by former CEO M. Douglas Ivester, one analyst said infected the office with "a genetic defect of interpersonal skills."

The demise of Ivester, who abdicated the CEO throne in December 1999 after two-and-a-half years of service, came during a period of low lights for the iconic company, including a contamination scare in Belgium and run-ins with European regulators.

But Daft is different, they say. A 30-year company veteran, he's armed with the know-how to run Coca-Cola after managing its Middle and Far East group. What's more, he knows how to deal with people, a deficiency that some say led to Ivester's surprise retirement.


Some of Daft's better-known endeavors include encouraging employees to send ideas by e-mail directly to him, adding a paid holiday in memory of the chemist who invented Coke, and revisiting the company's compensation system.

This "employee morale plan," aimed at retaining workers, came in the wake a cost cutting move in February that called for some 5,000 job cuts. Along the way, he also helped settled anti-discrimination suit by several African-American employees.

With so many things on his plate, not to mention the ever-present concern about the company's stock price, the board, led by Buffett, perhaps was overwhelmed by the deal, and unwilling to sign off.

"He's only been the CEO for under a year and he's had a lot of things that he's had to tackle," said Skip Carpenter, analyst for Credit Suisse First Boston. "I think they would rather see him continue to work forward on some of the initiatives he's set out on before the company was read to take on a transaction of this size and magnitude."

Coke and Pepsi (PEP: Research, Estimates) are locked in a fierce battle to expand their non-carbonated beverage drinks as soft drink sales continue to slow, particularly in the United States. Purchasing the Quaker Oats would keep Gatorade out of Pepsi's hands.

But analyst said board members such as Buffett, whose Berkshire Hathaway Inc. is Coke's biggest shareholder, were concerned about the cost of the deal and believed that now was not the time to derail Coke's polishing of its core beverage business.

The turn of events is sure to cause some embarrassment to Daft, analysts said, noting that Daft and Quaker Chairman Robert Morrison had publicity photos taken together, according to one published report.

With that in mind, the board added that expression of "enthusiastic support."

"Daft is truly a long-term Coke employee with a stellar track record," said ING Barings' Manny Goldman. "There is a good relationship and high regard there with the board, otherwise he wouldn't have become chairman."

In a statement released late on Wednesday, Daft, noting the company's "obligation to explore opportunities," acknowledged the board's decision with no apparent ill will.

"I am grateful for the effort our board put into this," he wrote in a note signed "Doug."  He added, "The Board and I have never been more excited about the future of our great company."