NEW YORK (CNN/Money) – Break out the boxes and 3M tape. America, it seems, is on the move.

In the quest for a clutter-free existence, aging baby boomers nationwide are trading in their high-maintenance (and highly appreciated) homes for smaller pads.

But, as many retirees before them have learned, simplifying one's lifestyle creates a quandary all its own: what to do with a house full of "stuff" that's too valuable to toss and too abundant to take along.

After all, no one wants to unknowingly trash a priceless item that could fetch hundreds – even thousands – of dollars. Then there's the nagging guilt about pitching items that still have "some use" left in them.

Get it appraised

How you unload your possessions depends on two factors: the amount of work you're willing to put into the process, and what you have to sell.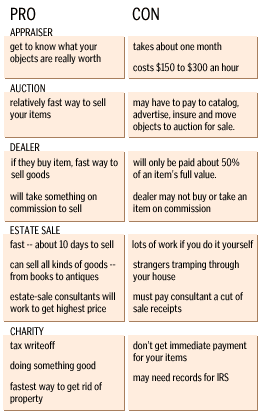 The biggest challenge novice sellers face is knowing how much their belongings are worth. Your childhood Superman lunchbox, for example, may be worth a fortune to collectors of kitsch.
Before you toss or tag anything, check out reference guides that can help you put prices in perspective, like the "Antiques and Collectibles Price List 2002" by Ralph and Terry Kovel, who also have a Web site for sellers and collectors. Your best bet, though, is to hire an independent appraiser to sift through your home for what's hot and what's not.
Appraisers charge from $150 to $300 an hour and you can get a reference from organizations like the Appraisers Association of America. Never hire anyone who wants to buy the items he or she appraises, since they'll be too tempted to undervalue an item and scoop it up on the cheap. For more tips on hiring an appraiser see our story, "Treasure or trash? 10 ways to find out."
Start sorting
You'll next need to separate your most valuable items from the mundane and decide where to sell them. Valuable antiques may wind up in an auction or estate sale, or be sold to a dealer depending on how quickly you need the cash. Less pricey goods -- say, clothing, books or tools -- can be taken to thrift shops, donated or sold at a garage sale.
Here's a closer look at your options:
Auctions
We've all heard of art and antiques that sell for millions at auction houses like Sotheby's. But most items are of the everyday variety that sell at local auction sites across the country.
Related Stories
In fact, you don't need a museum-sized inventory to put something on the block -- your pieces can be grouped together with other people's belongings. In most cases, it takes a month to 45 days to get something sold by the time you contact an auctioneer.
But be aware that auctions cost money – even if your household goods don't sell. That's because you'll generally pay the price to catalog or advertise your items. Moving and insuring objects may also be additional out-of-pocket costs.
You can find an auction near you through National Auctioneers Association. Hire an auctioneer who's got experience selling the kind of property you want to get rid of, especially if you have speciality items like cars or jewelry. Interview at least three before picking one.
"Ask for references and then do a little research just like you would if you hire someone who does open-heart surgery," said Joe Wilson, president of NAA and owner of Wilson Auctioneers Inc. in Hot Springs, Ark. "You want someone who's experienced and licensed and bonded."
Auctioneers charge different rates – either a flat fee or a percentage of sales (20 percent is common). But no matter how much you pay, it's vital to get a contract clearly defining what's included in the price.
Dealers
Those who have more time to sell objects may want to consider dealers, who in turn sell your goods to professional collectors or individual buyers who may be looking for, oh, antique chairs for their home.
Knowing the fair market value of your possession will protect you from being taken to the cleaners so make sure you've got an independent appraisal before you start selling. That said, you'll never get paid the full value of your collectibles or antiques from a dealer. (After all, a dealer has to then raise prices to make a profit.) In most cases, expect to be paid half of what something's worth.
What you pocket also depends on if the dealer agrees to purchase your goods outright or sell them on consignment. If a dealer buys something outright, they have to outlay cash - and take a risk of having to resell something -- so you can expect less.
You'll need a reputable dealer, so start with word-of-mouth references. A local museum curator, estate attorney or trust officer from your bank are good references since they often work with dealers. Or check with Art Dealers Association of America, which has listings of dealers who specialize in fine arts (painting, photography, etc.). The ADA also has a free consumer guide to doing business with dealers. (Just click "Collector's Guide.")
Estate/Tag Sales
If you've got lots to sell, your best bet is an estate (or mega tag) sale, where you open your home to strangers and let them pick over tagged items. There are two routes to take: do it yourself or hire a pro to tackle the job.
Big sales, after all, take lots of time. You need to advertise them, price items, deal with strangers tromping through your house, negotiate, sell – then clean up at the end of the day.
Most estate sale consultants will charge 20-to-30 percent of sales receipts. This gives specialists an incentive to make the sale as successful as possible. But these pros also ensure you don't under-price all those tiny, seemingly insignificant items that can add up to big bucks.
"I once sold an antique fountain pen for a woman for $250. She almost fainted. She would have charged $25," recalled Gene Mott, owner of Antiques and Old Lace in Cutchogue, N.Y. "I find that people throw the wrong things out and they end up tossing the important collectibles away. I'd rather have them let me work through everything."
Find an estate-sale specialist in your local phone book, or check out tag sales in your area to see who runs them – and how they work. In fact, it's a good idea to see how pros run a sale before you hire one.
Sales generally take 10 days to plan -- long enough to place tag sale advertisements in local papers.
Give it away
The fastest way to unload your gear is giving it away. And you get a tax write-off for charitable donations, and plenty of charities will even pick up items from your home.
Hit the big charities, such as Salvation Army, or look for local groups in the phone book. For example, Dress for Success, which has chapters nationwide, takes gently used office attire for people entering the workforce. Women's shelters may need baby clothes and toys.
Don't forget to get receipts when you make donations worth more than $250. The IRS will want to see them. Anything worth more than $5,000 needs to be appraised. For more information, download IRS Publication 526 and Tax Topic 506 from the IRS Web site.