NEW YORK (CNN/Money) - Scrapping its previous plan to rename the unit and spin it off, PricewaterhouseCoopers has agreed to sell its consulting arm to IBM for roughly $3.5 billion in cash and stock.
The two companies said late Tuesday that they have signed a definitive agreement that was approved by each of their boards of directors. The transaction is subject to regulatory approvals as well as the approval of local PwC firms through votes of their partners.
The deal is expected to be completed near the end of the third quarter and result in a charge of roughly 30 cents per share in the fourth quarter of this year, according to IBM's chief financial officer, John Joyce.
By the fourth quarter of 2003, the deal is expected to be accretive to earnings, Joyce said.
Under the terms of their agreement, PwC Consulting, with roughly $4.9 billion in revenue and some 30,000 employees, will be combined with the Business Innovation Services unit of IBM Global Services, bringing IBM's total services work force to roughly 180,000.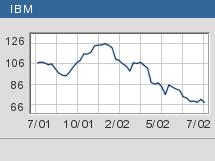 By taking PwC Consulting into its fold, IBM (IBM: Research, Estimates), which already is the world's largest supplier of information technology (IT) services, would substantially bolster its position in that area.
"This is very significant because this is one of the final steps in IBM transforming itself from a hardware-and-software company to a consulting-and-services company," said Sam Albert, an independent IT industry analyst and management consultant.
Although it remains the world's largest supplier of computer hardware, IBM over the last decade has transformed the company from its traditional role as a "box-builder" into a provider of technology, services and software.
"IBM's strategy is to deliver superior business value through the fusion of business and technology," Joyce said on a conference call Tuesday evening.
"The PwC Consulting acquisition underscores IBM's commitment to this strategy and raises its capability to a new plateau," Joyce said.
Growth at IBM's Global Services unit has accelerated rapidly in recent years. In the second quarter of this year it was the company's biggest revenue generator, taking in $8.7 billion, roughly 44 percent of IBM's total revenue for the quarter.
Often IBM will assimilate a company's entire IT department when it seals a big services contract. Among the most noteworthy of such arrangements recently was a seven-year, $4 billion deal with American Express which the company inked last February.
But IBM does not typically use acquisitions to boost its top line, and Joyce said the PwC Consulting deal does not represent a shift in the company's thinking.
"This opportunity came along, and it just fit right in our strategy," he said.
With PwC's business-consulting muscle, IBM, whose Global Services unit was focused mostly on systems integration and IT consulting, substantially expands the scope of its offerings and would be the leading business consultant by a very wide margin, according to Albert.
"The hardware and software are becoming commoditized, and the only way that a company can produce a solution in this space is with services and the right skills," said Albert, a 30-year IBM executive who left the company in 1989.
"And one of the fastest ways to ensure that that's done is to do what IBM did with PwC, which Hewlett-Packard tried to do and was unsuccessful."
HP (HPQ: Research, Estimates), which earlier this year bought out rival Compaq Computer, in November 2000 walked away from a deal to buy PwC Consulting after the two companies failed to reach an agreement on the price. At that time, company watchers were expecting a deal valued at as much as $18 billion.
For its part, PricewaterhouseCoopers has been anxious to get rid of its consulting business to avoid potential conflicts of interest where it serves as both the financial auditor and the consultant for a single company.
Related stories
Earlier this summer, PwC Consulting unveiled plans to rename itself "Monday" to distinguish it from PricewaterhouseCoopers as the company prepared for an initial public offering.
Joyce said IBM had first considered buying PwC Consulting over two years ago, but could not justify the valuation at that time.
"However, the current market has created a unique opportunity for both parties to come to mutually acceptable terms," he said.
The estimated $3.5 billion purchase price will be in the form of $2.7 billion dollars in cash, $400 million in a convertible note and $400 million in stock.
Greg Brenneman, president and CEO of PwC Consulting, said the company's partners will receive their portion of the sale in equity, and most also are getting stock options as part of an incentive package to remain with the firm following the acquisition.
Additionally, he said the company has promised a "significant number of stock options" to select employees in an effort to stay on after the deal is done, although he did not provide specifics.
"It's very attractive, I think, to the employees," Brenneman said.