Finally thinking about buying a DVD player? Four years ago, only the "early adopters" owned the pricey (about $700 in those days), first-generation units. If you've been waiting, now may be the time to buy.
A DVD (stands for "Digital Versatile Disc") is the same size as a CD, but because of technology advances, stores about 5 billion bytes of digital information -- far greater than a CD's 650 million bytes. The digital format allows higher video and audio fidelity, and a theater-like surround-sound experience in the home. No more rewinding or fast-forward, either. Start and stop wherever you like.
Why now?
Prices are now so low that cost is no longer a reason to wait. You can easily find DVD players for less than $100 these days. Of course you still get what you pay for. I've found that $100 players are still noticeably inferior in tracking badly manufactured DVDs, even when compared with my first-generation Panasonic unit, which was purchased years ago.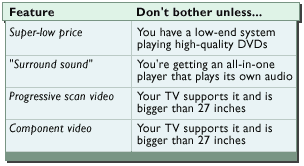 Then there's the rapidly expanding amount of content. If you're older than most college students, you probably remember when CDs started to replace vinyl records. Once that got going, it didn't take long before vinyl became hard to find at your local record store. These days, you may be noticing the DVD section at your neighborhood Blockbuster store starting to expand like The Blob into shelf space that had been taken up by VHS cassettes.
The major studios now release their newest titles on VHS and DVD simultaneously, and more and more of their back catalogs are being reissued and re-released, and sometimes even re-mastered and re-edited, all in digital splendor. (Again, just as happened with old vinyl classics on CDs.) There will be plenty of mainstream Hollywood fare, and many classics (like "Godfather," "Apocalypse Now") and cult favorites ("Princess Bride," "Brazil") are already on DVD. More back titles are being released based on market conditions ("Tora! Tora! Tora!" was released the same time Pearl Harbor hit the theaters) and consumer demand, as well as studio favorites.
New life for your TV and stereo
If you've purchased a stereo in the past few years, chances are you have a receiver that's capable of "Surround Sound" or 5.1 channel sound -- that's a left, center and right, rear left and rear right speakers, and subwoofer. DVDs really take advantage of that capacity: Paired with a large television, putting together a home theater system that will fill your eyes and ears with a full sensory experience is no longer a luxury for the super-rich. And high-end televisions today now accept higher resolution digital TV signals, for stunning home video. While not up to the lofty promise of HDTV (High Definition TV), DVDs are capable of delivering great pictures.
But there's a range of product and features -- and cost -- that DVD buyers need to navigate. You can get the most out of a DVD-player purchase, whether it's for yourself or as a gift, by matching the technology in the player with the capabilities of the rest of the entertainment system.
Features
The price of DVD technology has been dropping dramatically over the past four years so low-end units are now between $90 and $130. The lower-end units from the established manufacturers (Sony, Panasonic, etc.) are generally pricier than the bottom-end manufacturers (Apex, Oritron, Daewoo) by $30 to $80. Higher-priced units have more reliable drive mechanisms, able to read DVDs that aren't perfectly flat or with complex or fast-moving images that tax the video decompression capabilities of the player.
Is "top of the line" worth it?
Even if you're buying a DVD player online, it helps to test out the units at an electronics store. Use a movie like "The Matrix" or "Romeo+Juliet," which are notorious for torturing lesser DVD players. Watch for skipped frames, images that disintegrate into blocks of color, and audio/video stuttering.
There are just a few obvious features that distinguish DVD players: progressive scan, component video output, and multidisc trays. Some DVD units split the output into six separate channels for theater-like "surround sound." Most units don't, though, leaving that job for your receiver, which should be just fine. So unless you're getting one of those all-in-one units that packages the DVD player and the speakers together, surround sound decoding (in formats like Dolby Digital, THX, etc.) isn't a critical feature.
DVDs offer much higher quality sound than VHS tapes, but if you're spending a lot of money on a DVD player, you may be wasting much of that investment if the rest of the sound system isn't up to the job. The same goes for video. Progressive scan and component video output have the most impact on your picture quality, but you need a television that supports component video or progressive scan to see any difference.
Most new higher-end televisions support component video, which separates your video signal into the black and white and color components. Component video provides a much cleaner picture than standard video or S-video signals. Again, to see any benefit, the rest of your system will have to be up to the task. If your television doesn't have component video input, you won't see any benefit from a DVD player with this feature.
The latest tech
The most expensive high-end televisions support a technology called progressive scan or digital video (Sony calls this feature Hi-Scan -- watch for the 1080i feature, which means 1080 lines of resolution). Progressive scan is a sort of warm-up to the much-hyped HDTV (high definition television). Video images are made up of lines of resolution; current television signals are interlaced -- your television refreshes every other line every time the screen is refreshed, so half the screen lines change on every other scan. Progressive scan televisions refresh every screen line every time the screen is refreshed, resulting in a much smoother picture. Progressive scan DVD players provide the best possible DVD image available today.
If your television has neither progressive scan nor component video inputs, the visible difference between any of the DVD players -- from the $99 player to the players that cost thousands -- is likely negligible, especially on televisions smaller than 27 inches. If your salesman tells you that a progressive scan player will provide better images on your non-progressive scan television, find another salesman or store. If you have larger televisions, some of the "under the hood" features of higher-quality units, like more accurate disc tracking lasers, will show up during your movies. If you're preparing to upgrade televisions soon and are ready to spend big bucks (more than $1,000), a DVD player with these features will be money well spent. If not, save your money.
This story was originally published on December 11, 2001. It has been updated for republication..