NEW YORK (CNN/Money) - Could someone close to you have a lot of money secretly socked away?
When Joseph Leek died recently he left nearly $1.8 million to an organization that provides guide dogs for the blind. Nothing unusual there. Except that nobody, not even his own family, had any idea that he had that kind of money.
The 90-year-old Britisher lived like a pauper, according to his daughters. He watched television at a neighbor's house to save on electricity, put off home repairs, and bought secondhand clothes.
Just another English eccentric? Actually, Leek is the latest example in a long line of people who have astonished family, friends, and society in general by leaving large estates after leading poverty-stricken lifestyles.
Call them the surprisingly rich.
Millionaires in rags
Leek's story drew publicity because he left his money to charity, but Peggy Sheahan Knee, an estate attorney and elder-law practitioner in Saddle Brook, N.J., sees similar cases all the time that never hit the headlines.
"I see many more people who have more money than family members realize than those who have less," she said.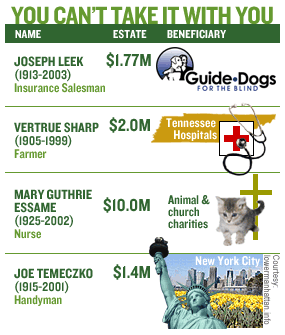 She cites a case in which the state of New Jersey recruited her to help find the lucky heirs of a homeless women who died in a seedy welfare hotel. The state had uncovered more than a million dollars in savings that belonged to the woman.
Sometimes, "it's about control," said Marlin S. Potash, a psychologist who specializes in money issues. People who pretend to be poorer than they are may be terrified that they won't have enough money to meet an emergency. So they keep quiet about their wealth for fear it will be taken away from them.
For others, Potash says, it can be a way to surprise and please loved ones after you die.
One family she's familiar with, however, did not sound pleased. The children and even the wife were infuriated when they learned after the family patriarch died that they were much wealthier than they ever realized. They had felt deprived for years.
"Now," Potash said, "they're spending like crazy."
Finding pleasure in pinching pennies
For people like the Rev. Vertrue Sharp (that's his real name), who raised hay and cattle, in addition to preaching and teaching, making sacrifices was no hardship.
His sister told the Knoxville News-Sentinel that Sharp saved every penny he made. When he died in 1999, he left an estate of $2 million to the East Tennessee Children's Hospital, the University of Tennessee Medical Center, and other charities.
People like that don't feel that they're missing out, says Potash. It pleases them to devote their lives to saving enough money to have impact on the lives of others.
Another case in point is that of an English spinster, Mary Guthrie Essame, a retired nurse who lived in an old Victorian house in East Sussex.
Her friend and neighbor, Monica Unter, told the local newspaper, The Argus, that Essame clad herself in such worn clothes and old shoes that no one knew how well off she was. Neighbors were shocked to learn that her estate amounted to a whopping $10 million when she died in January 2002. (The money was left to a host of charities.)
Then there's Joe Temeczko, who roamed his Minneapolis neighborhood looking for throwaways to fix up and sell or give away. The Polish immigrant and former prisoner of war did odd jobs, had no family, and lived in a modest house filled with the things he scavenged from the street.
His attorney, William Wangensteen, describes himself as "blown away" when Temeczko's bank called a few years ago, trying to enlist Wangensteen's support in persuading the little old man with the thick accent to convert his million-dollar bank account into more lucrative investments.
Before that, Wangensteen had no idea that the handyman who rotated the attorney's screens and storm windows every spring and fall was so rich. Wangensteen says Temeczko would get free food from local charities and read newspapers in the store so he wouldn't have to buy them.
Temeczko took the news of the 9/11 attacks hard; he had his will rewritten, leaving $1.4 million to the City of New York. He died a few weeks later in October 2001 at age 86.
Temeczko's bequest helped fund a park renovation, as well as "The Daffodil Project," in which thousands of volunteers planted more than two million flower bulbs across New York City as a living memorial to 9/11 victims. Appropriate, because Temeczko loved gardening and often shared the products of his labors with friends and neighbors.
"I would say he was a happy man," said Wangensteen.