NEW YORK (CNN/Money) - Verizon Wireless has the best-quality cellular network, according to a study by J.D. Power and Associates. Nextel was a close second.
For their Wireless Network Quality Assessment Study, the market research and customer satisfaction survey company polled 16,800 wireless telephone customers. Wireless companies were ranked on a scale, with 100 representing an average score. Scores above 100 represented better network quality.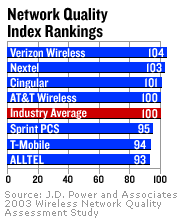 Verizon (VZ: Research, Estimates) scored best at 104. Nextel (NXTL: Research, Estimates) and Cingular followed, with scores of 103 and 101, respectively.
AT&T Wireless (AWE: Research, Estimates) was average while Sprint PCS (PCS: Research, Estimates), with 95, and T-Mobile, with 94, were below average. Alltel (AT: Research, Estimates) was ranked last with a score of 93.
To rate the quality of wireless companies' networks, the survey asked about common cell-phone problems such as dropped or disconnected calls, static and interference, and voice distortion. Problems were scored for importance by comparing the frequency with which the problem was reported in each survey with the overall customer satisfaction reported in the survey.
Problems that were found to have a large impact on customer satisfaction carried the most weight in wireless companies' final network quality scores. For instance, dropped or disconnected calls had the most impact, representing 32 percent of the score. Static and interference was weighted at 29 percent. No immediate voicemail notification was weighted at just 4 percent and no immediate text message notification was rated as the least important issue at a weighting of just 1 percent.
Network quality can have a major impact on customer retention, according to Kirk Parsons, senior director of wireless services for J.D. Power. Intent to switch carriers increases proportionally to the number of network quality problems reported by the customer. Those who indicated they were "definitely" likely to switch carriers in the next year reported 19 percent of calls having static and interference. That's more than twice the average rate of 9 percent. Those who said they would "definitely not" switch reported that problem with only 5 percent of calls.
The survey revealed that the average cellular customer uses the phone for 360 minutes, or six hours, each month. Customers receive an average of 14 voicemail and 7 text messages each month and 60 percent of calls are made outdoors. Of those, 62 percent take place in cars.
People living in the Northeast reported the worst network quality, with a score of 92 overall, while those in the North Central region reported the best with a score of 104. The Southeast had the second-best quality with a score of 102.