New York (CNN/Money) - For most people, the "Blackout of 2003" is proving to be more of an inconvenience than a disaster.
Yet, it reminds us of why it's critical to have a disaster plan in place.
"High profile incidents underscore the importance of being prepared for any kind of disaster, whether it's natural or related to terrorism," said Larry Rockwell, with disaster public affairs for the American Red Cross. "It behooves people to think about these things no matter where they live."
Being prepared for the worst doesn't necessarily mean outfitting your family with gas masks and HAZMAT gear. It starts with basic planning.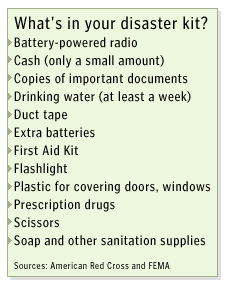 "The easiest and most important thing a family can do is simply have a conversation about what they would do in the event of a disaster and put together a disaster kit," said Darren Irby, a spokesperson for the American Red Cross.
Establish an out-of-town family contact
When the lights went out on Thursday, many people quickly found that their cell phones weren't immune to power failures.
Following any disaster, phone lines and cellular towers may be damaged or simply overwhelmed with volume, making it difficult to get calls through to an area. "I may not be able to call my wife across town but I can call another state," said Irby. "You need to have a plan "a" and plan "b" for getting in touch with each other and assuring your safety."
For this reason, your family should establish an out-of-town contact to act as command central in the event of a disaster or "inconvenience." Make sure this person knows he or she is the emergency contact person and has essential phone numbers and e-mail addresses on hand. Family members should carry the family contact's phone number and e-mail with them at all times and plan on calling or e-mailing that person if they have problems getting in touch with each other directly.
Make evacuation and meeting plans
When establishing a family plan, of course, you also want to keep your perspective.
"You're more likely to be struck by lightening than you are to be harmed by a terrorist event," said Bruce McIndoe, CEO of the travel intelligence company iJET and architect of various programs used by national intelligence agencies.
But, he says, families still need to plan for situations that may make it difficult to get home.
"Each one of my family members knows where they need to go in the event of a disaster," said McIndoe, who lives outside of Washington D.C. "The plan is get to safety and then rally the family together."
If you have school-age children, you want to start by finding out what their schools' emergency plans are, including where your children would go if the schools needed to be evacuated. Make sure the school has your updated contact information, including your out-of-town family contact.
You'll also want to find out what your employers' emergency plans are and share that information with your family members and out-of-town family contact.
Once you have an idea of how your schools and employers will respond, you can talk about where each of you is likely to go if there is a disaster and come up with the best strategy for reuniting, whether at your home or a predetermined meeting place away from the house.
Assemble a disaster supply kit
There are two scenarios you need to plan for in the event of a disaster – quickly evacuating or staying where you are with a "shelter in place." Put together a disaster supply kit that will allow you to deal with either situation, keeping in mind that electricity, fuel, food, water and other things we take for granted may be hard to come by.
The basic kit recommended by the Federal Emergency Management Agency (FEMA) for a chemical or biological attack includes: battery powered radio with extra batteries; non-perishable food and drinking water; a roll of duct tape and scissors; plastic for doors, windows and vents; a first aid kit; soap, water, bleach and other sanitation supplies.
These items are useful for dealing with all types of disasters, not just those related to terrorism. "There are 101 uses for duct tape and multiple uses for plastic sheeting," said Rockwell, adding that duct tape and plastic may be of use if, say, a tornado blows off part of your roof.
You'll also want to think about including in your kit a small amount of cash, a flashlight with fresh batteries, and any items that are essential to your health, such as prescription drugs.
"We don't recommend buying gas masks since you need to be trained to use them properly, but if you sleep better at night because you have them, go ahead and include those in your disaster kit," said Irby.
If you haven't already, make copies of important documents, such as birth certificates, passports or insurance information, and put those in a safety deposit box or other safe place. While you're at it, make an extra set of copies to include in your disaster kit.