NEW YORK (CNN/Money) - It takes more than $2-a-gallon gas to kill Americans' love affair with big SUVs.
While record prices at the pump are starting to nibble away at purchases of big sport/utility vehicles, it's going to take higher gas prices for a longer time across most of the nation to put a serious bite on those sales, according to industry reports and experts.
Sales of big SUVs tumbled 15 percent in April, according to sales tracker Autodata.
But sales are still up 7.8 percent so far this year.
And while that outstrips the 3.1 percent gain in sales for all vehicles, it's well behind the 11 percent gain for all SUVs over the first four months of the year.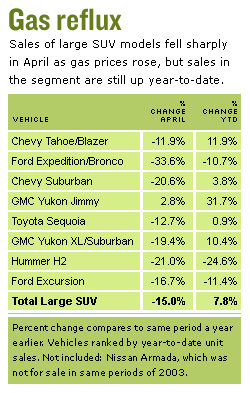 May sales of the biggest gas-guzzlers could be affected as gasoline keeps rising.
The AAA survey of gas prices hit a high of $1.97 in its most recent reading Saturday, and crude oil prices hit a record high early Monday after the head of the provisional Iraqi governing council was killed by a car bomb in Baghdad.
The drop in sales comes as other market surveys are starting to point to other dents in large SUV sales.
CNW Marketing Research found that buyers of big SUVs are postponing purchases 4.6 months, on average, nearly 50 percent longer than the industry-wide average of 3.1 months.
Mid-size SUV buyers are waiting 3.9 months, while the industry average, and the normal wait even for buyers of large SUVs, is only about three months.
"They're simply postponing the acquisition of a full-size sport/utility until they see what happens with gas prices," said Art Spinella, president of CNW.
Related stories

"In those markets where gas prices have been at a sustained $2.10 to $2.50, we're seeing a lot more postponement and some downsizing to smaller engines or a smaller vehicle, a mid-size rather than the full-size SUV."
But luxury SUV buyers aren't postponing their purchases, Spinella noted: they have an average wait of only 1.1 months.
One of the more expensive big SUVs has seen one of the sharpest sales declines: the Hummer H2, marketed by General Motors, whose sales are off nearly 25 percent year-to-date.
The brand started offering its first dealer incentives to spur sales in March, and began its first incentives to buyers in May.
David Caldwell, a spokesman for Hummer, said the company believes the decline is due to the vehicle being a year farther from its June 2002 launch, rather than the recent rise in gas prices.
Spinella agreed, saying Hummer customers aren't that concerned about the price of fuel.
"They don't care if gas prices are $2.50 or $3," he said.
The April survey from CNW also found that out of 56 characteristics considered by Americans buying new vehicles, fuel economy still ranks 44th, up from 46th in the previous survey.
"It's still more important to have the right number of cup holders than high fuel economy," said Spinella.
For buyers of big SUVs, fuel economy is the 51st most important feature of a vehicle.
The only type of SUV that might get a lift from fuel-conscious buyers is the new gas-electric hybrid. Ford is just debuting a hybrid Escape, the first such vehicle to hit showrooms in the United States, but that's a compact SUV.
Another survey by Kelley Blue Book and Harris Interactive found 17 percent of car buyers surveyed said they've already changed their minds about what they plan to buy due to high fuel costs, with another 21 percent strongly considering vehicles that they had not considered before.
" It's still more important to have the right number of cup holders than high fuel economy. "
Art Spinella
CNW Marketing Research
In addition, another 15 percent of new car shoppers indicated that they would strongly consider more fuel-efficient vehicles if gas prices rose as little as another 25 cents.
But Robyn Eckard of Kelley noted that while SUV buyers are expressing about the same willingness to change buying habits as car buyers overall, they're looking mainly at smaller SUVs, not changing from an SUV to a sedan or small car.
In fact, sedan buyers are the most likely to see their buying habits change due to gas prices. Just over half said they either have changed their minds or are strongly considering other vehicles due to the rise in prices at the pump.
"For SUV buyers, it's a lifestyle choice," she said.
In addition, last week a report by auto price tracker Edmunds.com said that its index of new vehicle prices, which charts prices controlled for similar options, found that large SUV prices were off 1.5 percent, while compact car prices were up 2.4 percent.
"Although we have yet to see a flood of consumers trading in their large SUVs or trucks for smaller, more fuel-efficient cars, our analysis of 16 different vehicle segments clearly displays a relative weakening of demand for larger, less fuel-efficient vehicles," said Dr. Jane Liu, vice president of data analysis for Edmunds.com.