NEW YORK (CNN/Money) - The Mazda RX-8 was the only car to get the top rating in a new government test for the risk of a rollover accident, but six of 16 light trucks tested tipped up on two wheels.
The National Highway Traffic Safety Administration (NHTSA) ranked 33 cars and light trucks from the 2004 model year on their chance of rolling over in a single-vehicle accident. Light trucks include sport/utility vehicles, pickups and minivans.
Only the Mazda RX-8 received the top rating of five stars in the latest round of testing using NHTSA's new avoidance maneuver driving test. A five-star rating indicates less than a 10 percent chance of a rollover. But the RX-8 did less well, receiving four out of a possible five stars, in most of the traditional crash test rankings released Monday.
But all other car models came in with a four-star rating, which indicates a rollover risk of between 10 and 20 percent. None of the car models tipped up on two wheels during road tests.
By contrast, only six of the 16 light trucks models rated got a four-star rating, and one of those -- the Toyota Tacoma 4x2 extended cab pickup truck -- tipped up on two wheels during the road test, which was a new feature of the government agency's rollover-rating system.
The other 10 light trucks rated all got a three-star rating, which indicates a 20 to 30 percent chance of a rollover, with six of them tipping up on two wheels during the road tests begun by the NHTSA with this model year.
None of the SUVs got only a two-star rating, indicating a rollover risk of between 30 and 40 percent. In the previous ranking the 2004 Ford Explorer Sport Trac 4x2 got only a two-star rating. It also had tipped up on two wheels.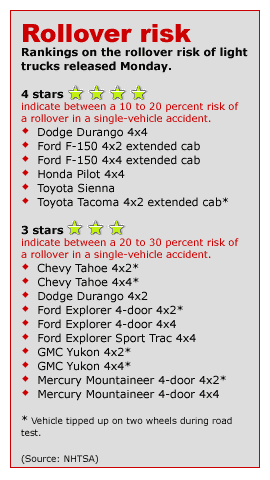 But car buyers shouldn't necessarily feel good about a four-star rating, said Laura MacCleery, counsel for auto safety for Public Citizen, the consumer group founded by Ralph Nader. She said that the 10 to 20 percent risk of a rollover in that category should not be considered one of the top ratings, and instead should be considered the minimum acceptable level.
"It's very misleading," she said of the NHTSA's five-star rating system. "We need a new minimum floor on how rollover prone a vehicle can be. The rating also says nothing about a person's survival in a rollover crash. The F-150 is a very heavy vehicle with a very weak roof. You won't want to be in a rollover in that vehicle."
In the ranking of 2003 SUVs, 22 out of 100 models ranked got only a two-star rating and another two received just one star.
To see how your vehicle stacked up in the 2004 ratings, click here.
The 2003 rankings were made without a road test, using a calculation based upon data such as wheel base and center of gravity. That calculation is still part of the current ranking, but no longer the sole criteria.
"Part of the change could be because of the new (rating) system," said NHTSA spokeswoman Liz Neblett.
"Part of it could also be greater attention to rollovers. When we first started doing the front and side crash tests, the scores were much lower, and then automakers put more attention on improving results. Safety sells."
Ford, GM respond
Ford spokeswoman Kristen Kinley said her company is confident that, even in the Explorer and Mountaineer models that tipped up on two wheels in the test, real-world drivers would be able to maintain control of the vehicle.
The Mazda RX-8 got the top rating for avoiding a rollover accident but didn't fare as well in the traditional crash test rating.
Kinley said the test has the vehicle make hard turns in one, then the other direction in an effort to avoid a theoretical obstacle. She said most drivers would only turn in one direction in that case.
"Not many human beings would even be able to do this maneuver in an accident avoidance move," she said.
She said Ford will soon offer a new roll stability control on its 2005 model Explorers and Mountaineers that senses if a vehicle is starting to roll, and brakes the appropriate wheels accordingly to reduce the chance of a rollover.
When asked for comment on the results, GM reissued a statement saying it approved of the new ranking and testing system being used by NHTSA, but that it's important for drivers to realize their chance of accident or injury depended more on their own driving behavior than the vehicle itself.
"Well over 90 percent of rollovers involve an unintended off-road excursion, with the subsequent rollover occurring either on or off-road," GM said. "Unnecessarily abrupt steering maneuvers should be avoided."
The statement said excessive speed, driving while impaired and not wearing seat belts are also major factors in rollover accidents, injuries and deaths.
A spokesman for Chrysler Group, the North American unit of DaimlerChrysler, was not available for comment.
New crash data
NHTSA also released some crash data Monday, and one of the SUVs tested performed very well.
The Chevrolet Equinox 4-door 4x4 received the top five-star rating for limiting the impact of both front and side collisions on drivers and passengers. The Toyota Camry Solaro Coupe 2-door also got the top five-star ratings in all categories.
Meanwhile the Mazda RX-8 four door with side impact air bag got four stars in all categories, with the exception of the impact of a front-end collision on a front seat passenger, which received a five star rating.
Click here for a look at auto stocks
Most of the other vehicles that had crash results released Monday had some combination of five and four stars. They included the Acura 3.2 TL four-door with side impact air bag, the Chrysler Crossfire two-door, the Mitsubishi Galant four-door, the Toyota 4Runner four door, the Chrysler 300C four-door, the Dodge Grand Caravan and its Chrysler Town & Country twin and the Ford Escape 4x4 and its Mazda Tribute twin.
The Chevy Aveo four-door got five-star ratings for limiting impact of a front-end crash on driver and passenger, but only three stars for limiting impact on them from a side accident.