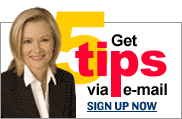 CNN's Gerri Willis shares five tips on how to handle a financial emergency.

Play video

NEW YORK (CNN/Money) - Unfortunately, it's likely that you will face some sort of a financial emergency in your lifetime.
While you can't easily prevent an emergency, knowing your options before disaster strikes will ease some stress. You don't want to make a mistake out of pure desperation.
In today's Top Five Tips, learn the tools that will help you tackle a financial emergency.
1. Create a safety net.
While the job picture is improving, companies are still laying off workers. Last week, the Labor Department reported that the number of individuals filing for first-time jobless benefits rose by 7,000 to 325,000 in the week ending January 22.
The reality is there is no such thing as a secure job. You need to be as prepared as though you expected to lose yours tomorrow.
"Cash in the bank is your best option," according to Louis Kokernak, a certified financial planner and a principal at Haven Financial Advisors in Austin, Texas. Kokernak recommends to his clients that they keep three to nine months' worth of living expenses in a near-cash equivalent such as a savings or money market account as a fall-back for a job loss or any financial emergency.
After disaster strikes, you may also have to consider "dramatically restructuring your financial life until you can get back to where you were before," says Jim Tehan, spokesperson at Myvesta, a non-profit consumer education organization.
Many people can't fathom lowering their standard of living, and often bury themselves in debt. Don't keep your life on the credit card; it will make it harder to get back on your feet again.
2. Break into the piggy bank.
Your well walls cracked over the winter and now you have no running water. It's a mess that will cost you $15,000. Your three to nine months of living expenses might not go that far.
Don't panic, you have options. If you own a home, you can borrow from your home's value with a home equity line of credit. If you haven't already, it's a great idea to open a home equity line of credit for situations just like your well emergency because it can cost you nothing to open.
Also, unlike a home equity loan, a line of credit is there if you need it. You don't have to use the money, if no emergencies arise. Kokernak says that borrowing on your own real estate by tapping into your home equity has a great tax advantage because you can write off the interest on your home loan for up to $100,000 in most cases. For more information on home equity lines of credit and loans, check out www.FederalReserve.gov.
If you have only lived in your home a short period of time and haven't built up a lot of equity, you may have to seek other solutions.
One possibility: You can tap into your 401(k) savings. Kokernak says most companies' programs allow a participant to withdraw up to half of their balance or $50,000, whichever amount is smaller. You are actually borrowing from your own money and are not taxed.
It is still a loan, so you will have to make timely payments. If you don't, you lose your before-tax privileges. The remaining balance will be considered income and will be taxed. Rules vary by employer, so check yours with your Human Resources department.
3. Get help at home.
The best way to prepare for unexpected disasters like flooding, tornados, hurricanes and more is to have home-owners' insurance, according to Barbara Ellis, a public affairs officer at the Federal Emergency Management Agency (FEMA).
However, there is more financial support out there other than just your insurance. If the President declares the crisis in your area a "disaster," you are eligible for financial relief from FEMA.
FEMA's Individual Housing Program offers households grants for uninsured damages caused by a disaster. Apply for a grant up to $25,000 by calling FEMA at 1-800-621-FEMA or going to its Web site at www.FEMA.gov. An inspector will come to your house within ten days to estimate the cost and verify the damages.
You can still get a grant if you are insured, and your insurance didn't cover all your damages. However, your claim cannot be on personal items -- FEMA requires your grant to be spent on repairs that help you become "safe, secure and sanitary."
Your insurance and a FEMA grant may not cover everything. You may also have to cover some of your damages out-of-pocket. To help with some of that financial burden, the government offers low-interest, long-term loans through the Small Business Administration (SBA).
"Do not be turned off by the word "Business" in the name; 80 percent of SBA's help goes to homeowners' and renters," says Colleen Heim, spokeswoman at SBA.
Like FEMA, these loans can only be used for uninsured losses. But your disaster doesn't have to be declared by the President, it can also be declared by the governor in your state, the Department of Agriculture, or SBA itself.
Rates on these loans vary. Right now, victims of flooding caused by snow storms in the Midwest are being offered rates from SBA that are as low as 2.937 percent over 30 years. When taking any loan, however, it is always smart to shop around for the best deal. SBA's Web site is www.sba.gov.
4. Abroad? Call home.
You dropped your money belt into the Nile. It's every traveler's fear: no cash, no credit cards, foreign country. What do you do?
The U.S. embassy or consulate won't just help you when you lose your passport, but they can also help you in a financial fix too. The Office of American Citizens Services will help you contact family, friends or your employer to get funds. They can help you arrange money wiring, make calls to your credit card company for a cash advance, or help you make a bank-to-bank transfer.
The U.S. Department of State's Overseas Citizens Services (OCS) will also allow your friends and family to send funds directly to the U.S. embassy or consulate for a fee of $30.
If you have a loved one abroad in a financial emergency, you can contact the Office of American Citizens Services and Crisis Management at (202) 647-5225. Also, check out www.travel.state.gov for more helpful information about traveling abroad.
5. Manage your medical bills.
A medical emergency can often turn into a financial emergency weeks later when the hospital bill arrives, especially if you are uninsured.
According to Bob Hobbs, author of "Fair Debt Collection" and the deputy director at the National Consumer Law Center, your first step in paying off this debt is to talk to the hospital's business office to set up a payment plan that you can handle.
One option you have is to borrow against your own IRA. If you need to borrow because of a hardship, such as a disability or a medical condition, you can withdraw funds without penalty, although you'll pay income taxes on the early withdrawal. To find out the limits on borrowing from your IRA, visit www.IRS.gov.
If you are not covered by insurance, Hobbs warns you to take a good look at your bill.
"Hospitals often charge uninsured patients double what they charge insured patients," Hobbs says. "Because of recent litigation, patients can push back and ask for a reduction."
If the hospital is still overcharging you for being uninsured, you can take your case to trial to have the bill reduced. To find a lawyer, visit www.NACA.net. Some will take consumer cases on a contingency basis, meaning you won't have to pay up front.
If you were hit with a huge medical bill, don't forget to prioritize your debts. While a $50,000 hospital bill might weigh heavily on your mind, you always want to pay off your debts with the highest interest rates first.
---
Gerri Willis is a personal finance editor for CNN Business News and the host for Open House. E-mail comments to 5tips@cnn.com.