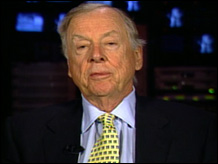 T. Boone Pickens, chairman of BP Capital Management, believes oil prices will continue to climb and sees gasoline prices reaching $3 a gallon. (June 27)
Play video

NEW YORK (CNN/Money) - Gasoline prices, reversing a two-month slide, are again approaching records and at least one expert thinks they could hit $3 a gallon soon in the United States.
"We'll see it within a year," T. Boone Pickens, head of the billion-dollar hedge fund BP Capital Management, said on CNN's "In The Money" over the weekend.
Pickens noted the discrepancy between $2 a gallon gas in the US and $5 a gallon gas in Europe. "The energy situation is global," he said. "I know there are taxes involved in the pricing...but eventually it's going to have to move up."
Gasoline prices mounted a renewed surge last month, with regular self serve rising 8 cents to average $2.21 a gallon, according to a survey released Sunday. That's just 7 cents below the all-time high set April 8.
Pickens said a shortage of oil is the main reason behind the price increase and didn't see how the world could produce more than the current 84 to 85 million barrels a day that currently comes out of the ground.
"We're coming up on a brick wall," he said. "The fourth quarter this year is going to maybe be the most interesting quarter I've ever experienced in my 50 years in the oil industry."
The fourth quarter typically sees the highest demand for oil as northern countries stock up on heating oil for the winter months.
Oil prices closed at a new record high Friday, with current quarter U.S. crude settling at $59.84 on the New York Mercantile Exchange. U.S. crude was trading above $60 a barrel Monday.
While $60 oil is a record in nominal terms, adjusted for inflation, oil would have traded at over $80 a barrel during the late 1970s.
Pickens said the economy is less dependent on oil today than it was in the 1970s and that it can apparently handle oil in the $50 range, but was unsure what effect $60 or $70 oil would have on future economic growth.
Where is all that oil money going? Click here.
Has OPEC lost its bite? Click here.