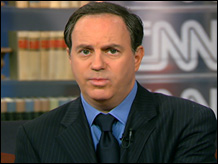 CNN's Andy Serwer talks about a day he spent with Wal-Mart heir John Walton last year while doing a story for Fortune magazine. (June 28)
Play video

NEW YORK (CNN/Money) - Wal-Mart, the world's largest retailer, said Tuesday that it had notified all its employees worldwide of John Walton's death Tuesday in a plane crash.
Separately, in a statement the company said that a private service would be held for the family.
John Walton, 58, was the second son of Wal-Mart (Research) founder Sam Walton. John Walton was killed when an ultralight aircraft he was piloting crashed shortly after takeoff from an airport in Jackson, Wyo.
Ranked No. 11 on the Forbes magazine list of the 400 wealthiest Americans in 2005, with a fortune estimated at $18.2 billion, John Walton was credited with his active involvement in the Walton Family Foundation's philanthropic endeavors.
With John Walton's untimely death, Sam Walton's legacy is now tied to the four remaining Walton family members, who together have an estimated net worth of $90 billion.
Helen Walton: Forbes magazine ranked Sam Walton's widow -- and the matriarchal figure for one of the wealthiest families in America -- at No. 13 on its 2005 list of richest Americans, with a net worth of about $18 billion.
In her mid-80s, Helen Walton is not actively involved in Wal-Mart but is active in philanthropic work through the Wal-Mart Family Foundation.
Her surviving children are Rob and Jim Walton, and their sister, Alice.
S. Robson Walton: The eldest son of Sam Walton, S. Robson Walton, 61, is currently chairman of the board of Wal-Mart Stores Inc., a position he has held since 1992.
Before joining Wal-Mart in 1969, Rob Walton was a partner in the law firm of Conner and Winters in Tulsa, Okla. At Wal-Mart, Rob Walton served as senior vice president, general counsel and vice chairman.
Forbes ranked him at No. 10 on its 2005 list of richest Americans, with a fortune estimated at $18.3 billion.
Jim Walton: The youngest son of Sam Walton, Jim Walton, 57, is said to represent the family's private side.
According to a Fortune magazine profile, Jim Walton presides over many of the family-owned businesses, including Walton Enterprises, which holds $90 billion of Wal-Mart stock, as well as a bank holding company, newspapers and some smaller companies.
Jim Walton is not on the board of Wal-Mart. However, he did feature on Forbes wealthiest Americans list at No. 11, with an estimated fortune of $18.2 billion.
Alice Walton: The only daughter of Sam and Helen Walton, Alice Louise Walton, 56, is also the youngest of the Walton children.
Alice briefly worked at Wal-Mart as a buyer and later worked as a broker with E.F. Hutton. She subsequently left her job as a broker, formed her own investment company, and became involved in charity work and raising horses.
Alice Walton is not on Wal-Mart's board. Forbes magazine recently ranked her at No. 13 on its list of wealthiest Americans, with a net worth of $18 billion.