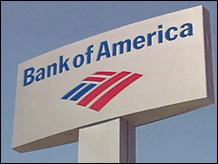 Bank of America is buying credit card giant MBNA for $35 billion. CNN's Andy Serwer reports.
Play video

NEW YORK (CNN/Money) - Bank of America, betting that financial "supermarkets" are the future despite recent skepticism, announced Thursday that it will buy credit card giant MBNA Corp. for $35 billion.
The cash-and-stock deal would make Bank of America (Research), already the nation's third-biggest bank, also the largest credit card issuer in the country, with 40 million active accounts containing $143 billion in outstanding balances. The Charlotte, N.C.-based financial services giant ranked fourth in the card business at the end of 2004, according to CardWeb.com.
Bank of America plans to eliminate 6,000 jobs once the merger is done. Subject to regulatory and MBNA shareholder approval, the deal is expected to close in the fourth quarter. (To read about how the deal will affect cardholders, click here.)
The banking behemoth has long had a voracious appetite for adding customers through acquisitions. Two weeks ago, Bank of America took a $3 billion stake in a Chinese bank. It spent last year digesting FleetBoston Financial as part of a takeover valued at $47 billion on the day it was announced.
Even so, the Bank of America deal caught Wall Street off guard.
Bank of America stock fell on the news, trading down throughout Thursday's session. MBNA shares jumped about 25 percent on the news.
Art Hogan, the chief market analyst at Jeffries & Co., said Wall Street's reaction reflected the fact that the 31 percent premium that Bank of America is paying for MBNA "hasn't been baked into the market yet."
The deal values MBNA at $27.62 a share, or about $35 billion based on Wednesday's closing prices. Under deal terms, MBNA shareholders will receive $4.125 in cash and 0.5009 shares of Bank of America common stock for each of their shares.
That would be a 31 percent premium above Wednesday's $21.07 close for MBNA.
"It's obviously a very rich price," said Richard Bove, an analyst with Punk, Ziegel & Co. But he said the deal makes sense for Bank of America, whose yields on mortgage loans have flattened in the face of low interest rates.
"If you have a portfolio filled with mortgages, you have a real problem in that you've got to get higher yields," he said. "Even though they paid a rich price, it makes sense from a balance-sheet standpoint."
Besides, he said, Bank of America is known to pay high premiums for companies and then "slash and burn" costs to get deals to work.
Motives aside, Bove and Hogan agreed that the MBNA sale sends one strong signal: that the heavily hyped concept of one-stop shopping for consumers is "alive and well" in financial services. Recent moves by rivals, including steps by Citigroup to shed some consumer businesses and Morgan Stanley to explore spinning off its Discover credit card unit, had called that vision into question.
At the same time there have been other deals in the credit card business.
Washington Mutual, the nation's biggest savings and loan, announced one early this month for Providian Financial, one of the largest independent credit card companies, for about $6.5 billion in cash and stock.
Some analysts had said the Providian deal would make Washington Mutual, long the subject of takeover rumors, too large to be acquired. But the Bank of America-MBNA deal signals that Washington Mutual could still be in play, said Hogan, who sees further consolidation in the industry.
"When you see a deal of this size, obviously (Washington Mutual) is still acquirable," said Hogan.
What does 1 + 1 equal?
At an analyst meeting after announcement, Bank of America CEO Kenneth Lewis and MBNA CEO Bruce Hammonds faced some skepticism about the deal and whether it would benefit shareholders in the long run. About 22 percent of the combined company's customer base already consists of MBNA and Bank of America cardholders. What's more, MBNA has approximately $15 billion in credit card receivables through partnerships with 350 financial institutions.
The Bank of America deal turns MBNA into a direct competitor of its current partners. Bank of America management told analysts that they expect to lose some business as a result, leading to a 7 percent drop in revenues by 2009. They declined to discuss specific partnerships, including a major one that MBNA has with American Express.
Instead, Lewis and Hammonds touted the benefits of the deal.
Lewis said MBNA adds to Bank of America business lines that are less prone to market conditions. He also made it clear that he considers MBNA's marketing muscle to be just as valuable as its credit card accounts. MBNA sells its credit cards through partnerships with 5,000 professional organizations, universities, sports teams and other financial institutions.
MBNA, continued Lewis, also gives Bank of America access to credit card customers in the mid- and upper Midwest and a handful of overseas locations, including the United Kingdom and Spain.
Lewis said MBNA's forays abroad, especially its success in Great Britain, "opens up a whole new thought process for us."
For its part, MBNA has been trying diversify into new products and expand abroad in the face of sluggish top line growth, according to Hammonds. The Wilmington, Del.-based company reported in April a 94 percent drop in first-quarter earnings due to higher-than-expected payment volumes and a restructuring charge.
MBNA also issued a profit warning.
Bank of America promises a level of consumer access that it can't get on its own, said Hammonds, who would become CEO of Bank of America's credit card division, to be headquartered in Delaware.
Direct marketing "doesn't work as well anymore," he said. And neither does telemarketing because of do-not-call lists.
Hammonds, who was involved in a harrowing helicopter crash in New York City this month, said Bank of America also gives MBNA a foothold in a market that so far the company has been unable to crack: China.
On June 16, Bank of America announced that it had bought a 9 percent stake in China Construction Bank, the country's second-largest commercial bank. Bank of America has the option to increase its stake in coming years.
"We've been unable to forge the right kind of relationships (necessary to enter the Chinese market)," said Hammonds. The fact that China lacks the sophisticated consumer credit databases that exist in the United States doesn't dampen Hammonds' enthusiasm.
"We can use our old-fashioned judgmental lending," said Hammonds.
For the latest on Bank of America and other Fortune 500 companies, click here.