Hot and cold home markets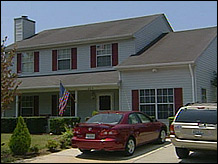 We compare what you get in different areas for $207,000 when buying a house.
Play video

NEW YORK (CNN/Money) - Manhattan's residential property market keeps getting hotter, but despite the record-high price levels, buyers aren't shying away, a new survey released recently shows.
The average price for residential property in Manhattan has topped $1.3 million for the first time, according to a Prudential Douglas Elliman survey which tracks condo and co-op apartment sales.
The median sales price for a Manhattan apartment hit $775,000, which means half of the people paid more than that amount and half paid less.
Improving economic conditions and rising incomes have contributed to the boom, the report said. Buyers are also being encouraged by falling mortgage rates, helping total sales rise across-the-board about 1.6 percent in the last year.
Tight supply on the island means homeowners today pay an average $970 per square foot of Manhattan property compared to the $762 they shelled out per square foot at the same time last year, the survey results show.
The average studio apartment sells for about $380,000 -- about an 18 percent premium from last year's price. But if space is what you desire, then be prepared to spend big money.
According to the survey, the average price of a property with four-plus bedrooms has more than doubled in price to $10.6 million, from about $5 million last year.
The Upper East Side is the most expensive part of the city to buy, where a square foot of property costs nearly $1,000. The Upper West Side follows at $940, while about $900 will buy a square foot in downtown Manhattan.
Uptown properties -- primarily those north of Central Park -- are the cheapest by region at $436 a square foot, but they are appreciating the fastest, with prices growing 45 percent from last year.
Every segment tracked in the survey witnessed record-setting price levels. The average cost of a co-op apartment broke the $1 million mark for the first time, and condos edged higher to post a record high average price of $1.57 million.
The average sale in the luxury market, which includes the upper 10 percent of all co-op and condo sales, exceeded $5 million for the first time. Meanwhile lofts, whose sales have jumped about 26 percent in the last year, are selling on average for $1.7 million, also a record.
Click here for the nation's most expensive housing markets.
Click here to read about falling long-term mortgage rates.
________________________________
Have you recently inherited some money? Trying to decide what to do with the cash? Money magazine would like to talk to you for an upcoming feature. E-mail Cybele Weisser with your story at cweisser@moneymail.com.