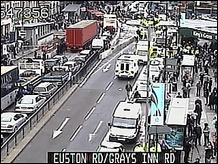 A series of explosions forced the Tube in London to shut down. CNN's Charles Hodson reports.
Play video

NEW YORK (CNN/Money) - Oil prices ended lower Thursday after a volatile day of trade following a series of coordinated terrorist attacks in London and a government report showing a large build in distillate stocks.
U.S. light crude for August delivery closed down 55 cents at $60.73 a barrel on the New York Mercantile Exchange. The modest change belied a day that saw a record high above $62 in early electronic trade -- and then a subsequent drop of nearly $5 in the wake of the explosions that rocked London.
Later in the morning the Energy Information Administration said crude supplies fell by 3.6 million barrels, while distillates supplies rose by 4 million barrels for the week ended July 1.
Analysts had expected crude stocks to fall by 1 million barrels and distillates to add 1.3 million barrels, according to Reuters estimates.
Traders focused on the healthy distillate number, as crude stocks remain well above last year's levels and attention turns to the winter heating season.
"It had been the product of concern, and that 4 million build is very large, " said Bill O'Grady, assistant director of market analysis at A.G. Edwards & Sons.
Oil had begun its slide earlier in the day following blasts on London's train and bus system that police say killed at least 33 people. Traders are nervous that terrorist attacks will erode consumer confidence and hurt economic growth.
"The market is interpreting this as a re-acceleration in al-Qaeda activity which could lead to global economic slowdown," Deborah White of SG Commodities told Reuters.
But Hurricane Dennis, currently bearing down on Jamaica, is acting as a price support as it moves toward sensitive oil producing areas in the Gulf of Mexico.
Tropical storm Cindy this week forced energy companies to shut in some 190,000 barrels per day (bpd) of output and some refinery units to close.
Last September's hurricane Ivan knocked out 45 million barrels of Gulf output over several months and helped oil prices climb past $50 a barrel for the first time.
Analysts said that, barring certain events, oil shouldn't fall too much further.
"It is not 9/11 in its devastation or its impact on global demand," Nauman Barakat, senior vice president at brokers Refco, told Reuters. "Therefore this sell-off will be very temporary."
"If we get through the next 24 hours without another attack and Hurricane Dennis weakens, then we should see this market recover," said O'Grady.
-- from staff and wire reports
For CNN/Money's special report "Oil crunch 2005," Click here.