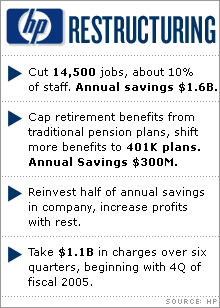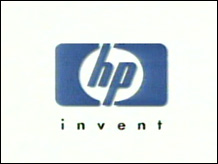 Hewlett Packard is cutting 14,500 jobs. CNN's Gerri Willis reports.
Play video

NEW YORK (CNN/Money) - Hewlett Packard is cutting 14,500 jobs, or about 10 percent of its staff, the company announced Tuesday.
The company said the cuts, along with a restructuring of its retirement benefits, should save $1.9 billion annually. It will take a $1.1 billion restructuring charge related to the moves.
Shares of Dow component HP (Research) slipped slightly at the open of Tuesday's trading on the New York Stock Exchange.
Typically, stocks often move higher on news of job cuts since investors bet that the reductions will lead to a boost in profits. But the announcement had been anticipated for some time and HP's stock has already surged more than 25 percent since new CEO Mark Hurd was hired earlier this year. Plus, some analysts estimated that the cuts could be as deep as 25,000 jobs.
"I think they wanted to trim off the fat and not the muscle. They probably were a little conservative," said Michael Carty, stock market strategist, New Millennium Advisors, about the level of cuts. Carty said while these cuts are a good first step, he doesn't believe this is enough to make the stock attractive yet.
"They've been restructuring for years and years," he said. "I think some people will look on this favorably and want to get in, but I'd like to stand on the sideline and see what really happens."
Half of savings to be reinvested
The company said that the charges will be spread over the next six quarters, beginning in the fourth quarter of fiscal 2005, which ends in October.
HP is looking for savings of $900 million to $1.05 billion in fiscal 2006. It said about half the savings will be reinvested in the business and half would go to increasing profitability.
"We can perform better -- for our customers and partners, our employees and our shareholders -- and we will," said a statement from Hurd, who was named CEO in March after the board forced out former CEO Carly Fiorina in February.
Fiorina was let go due to disappointing results since the merger with Compaq, which she engineered. Hurd came from NCR Corp. (Research) with a reputation as a cost cutter.
The company said the restructuring will move sales and marketing efforts directly into the business units, which it said will provide a tighter link with customers and eliminate layers of management. The majority of staff reductions will come in support functions, such as information technology, human resources and finance, with few sales positions being eliminated.
HP will offer a voluntary retirement program to longer-serving staff based in the United States. It did not give details about how many job eliminations will occur in the United States versus foreign operations, nor did it say how many involuntary job cuts it expected to make.
During a conference call with analysts Tuesday morning, Hurd added that the company had no plans to announce any further job cuts in the near future. He also stressed that HP's employee morale, according to a recent internal survey, was "higher than you'd think."
"There is a lot of hope in the company," Hurd said.
Pension changes
The company also said it will, as of January 2006, freeze the pension and retiree medical-program benefits of current employees who do not meet defined criteria based on age and years of company service. Instead, it will increase its match to 401(k) plans to 6 percent of income from the current 4 percent cap.
The changes in benefits are expected to save the company $300 million annually, with the rest of the $1.9 billion in savings coming from reduced staffing.
The company said the benefit change will not affect those already retired or those close to retirement.
For more on technology news, click here.