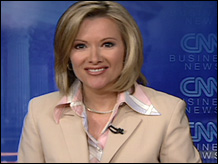 CNN's Gerri Willis shares five tips on what you need to know if you are considering buying a bicycle. (July 25)
Play video

NEW YORK (CNN/Money) - Although the Tour-de-France ended yesterday, the race may have inspired you to cultivate your inner Lance Armstrong.
So we've put together 5 tips to tell you what you need to know before buying a bicycle.
1. Choose your style
This isn't your father's Schwinn! Today, selecting a bike can be very challenging. There are over seven types of bikes out there.
If you're the gritty off-roading type, consider a mountain bike like President Bush. These bikes are designed to absorb more shock. And they have low gears for easier hill climbing.
If you would rather poke around the neighborhood or glide across even pavement, consider a road bike like John Kerry. The tires are narrower and the handlebars are curved for better aerodynamics. Road bikes are seeing tremendous growth because baby boomers want a more forgiving workout than running according to Steve Madden, the editor of Bicycling Magazine.
If you just can't decide if you're a more of a Bush or Kerry type, don't worry, there is a happy medium. Hybrid bikes are a combination of the two. These bikes have a larger saddle and the rider is sitting more upright. Hybrids are not built for speed as much as they were built for comfort says Madden.
For those people who really do want to hit the road, consider a racing bike like Lance Armstrong. The tires are razor-thin and the rider is more angled at the waist. There is generally a minimum of 20 speeds. Racing bikes can be designed with very light super-light carbon fiber material instead of steel or aluminum. This makes the bikes extremely fast.
If you want some company on your ride, you can still get a bicycle built for two at major bike retailers. And then of course there are recumbent bikes where the rider is in a reclined position. These bikes are generally for people with bad backs.
2. Find the right value
President Bush's Fuel 80 Mountain Bike retails for $1,400 while Kerry's Serotta Ottrott cost about $8,000, according to the company. Your pockets may not go that deep, but when it comes to buying a bike, you get what you pay for.
Cheaper bikes are usually heavier than higher-priced bikes. This makes them harder to pedal and shift. Here's a good thumbnail look at price ranges:
The typical range on a mountain bike is $360 to $3,300, according to Bicycling Magazine. The price range on hybrid bikes is $300 to $2,000 and racing bikes typically run $450 to $8,000. Tandem or recumbent bikes can range from $800 to $11,000.
If price is your bottom line, check out eBay, where you can bid on mountain bikes and road bikes for as low as $230. Most major bike manufacturers don't sell directly to consumers, but Karen Bliss of Fugi Bikes recommends that people don't pay more than the manufacturers suggested retail price at bike shops. You can check out the MSRP from manufacturers online.
She also says the best time to buy a bike is July and August when bike shops are getting rid of older models and making way for next years' bicycles.
3. Avoid faceless purchases
While you may pay more at a bike shop versus a discount store or online, you'll get more bang for your buck there. Find a bike shop that has a good reputation for sales and service.
Observe the walls. Make sure the mechanics in the shop have gotten their certification says Madden. "It's important to work with the salespeople on finding the right fit," he says.
And besides, these mechanics tend to do a better job of assembling bikes than department store employees, according to Consumer Reports. To find a bicycle dealer near you go to the National Bicycle Dealers Association's website at www.nbda.com .
4. Find your intimate fit
The most important component to buying a bike is making sure you're comfortable.
There are a few rules of thumb. Make sure a frame isn't too tall or short by straddling the bike. You should not have to balance on tip-toe. Handlebars should be at a comfortable height and reach. Women generally have shorter torsos and as a result, should be especially aware of handlebar reach.
Have a pro help you get the best fit and feel by adjusting or changing components like the handlebar stem, saddle, seat post, or cranks.
5. Watch the warranty
Now that you've settled on your bike, don't think you can throw caution by the wayside. That manufacturer's warranty may not cover as much as you think.
In fact, very often a manufacturers warranty will only cover you in case there is a defect in the product. You are not covered you if you're in an accident or there is damage due to normal wear and tear.
Madden says some warranties can be voided if you weigh over a certain limit. Ask the bicycle shop retailer what the maintenance policy is. Sometimes the bike shop offers these deals free of charge for a few months after your purchase.
---
Gerri Willis is a personal finance editor for CNN Business News and the host for Open House. E-mail comments to 5tips@cnn.com.