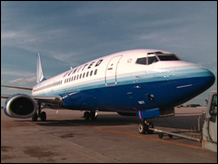 CNN's Andy Serwer talks about ending free Skycap service at one airline and possible bankruptcy filings by two carriers.
Play video

NEW YORK (CNN/Money) - Delta Air Lines and Northwest Airlines could be tipped to filing for bankruptcy protections in September in order to be covered by an existing bankruptcy law rather than more restrictive legislation that will take effect in October, according to a published report.
The Washington Post, citing bankruptcy experts and airline insiders, reported Tuesday that a filing by both companies is likely in mid-September. It reported the airlines are expected to delay any action until after the Labor Day weekend to avoid distressing employees during the busy summer travel period.
The newspaper said that provisions in the new bankruptcy law, signed into law in April, would be less attractive to the airline management than the current law, which would apply if the filing is done before Oct. 17.
Among the factors, airlines would have less time under the new law -- only a 18 months -- during which management would have the exclusive right to devise a reorganization plan. During that so-called "exclusivity period" management does not have to worry about either creditors submitting their own reorganization plans that could force liquidation or about a possible takeover effort.
United Airlines parent UAL Corp. has been in bankruptcy court since December 2002 without such a plan.
Also under the new law, the airlines are prohibited from paying retention bonuses to executives except when the executives have proved they have job offers elsewhere, according to the report.
In May, US Airways Group Inc. asked a bankruptcy court judge for up to $55 million for a severance and retention plan for its senior executives and its 1,800 management-level employees, the Post reports. The airline said it wanted to make sure it could retain its executives as it completed its proposed merger with America West Holdings (Research). The bankruptcy court approved $15 million.
Northwest (Research) president and CEO Douglas Steenland, when discussing his company's second-quarter loss on a conference call last week, refused to speculate if or when the nation's No. 4 airline would have to file for bankruptcy, the newspaper reported. But he said the new bankruptcy law taking effect Oct. 17 would be "one of the factors" in the decision-making process.
The newspaper said Independence Air (Research) also may be forced to file for bankruptcy protection. The discount carrier, which tried to make the transformation from feeder carrier for United Airlines and Delta in 2004, is based at Dulles International Airport outside of Washington.
Independence Air spokesman Rick DeLisi declined to comment to the newspaper.
Delta (Research) CEO Gerald Grinstein last week told employees in a memo that the nation's No. 3 airline's efforts to cut about $5 billion were not enough to avoid a possible bankruptcy filing. An airline spokesman said the airline is still trying to avoid a bankruptcy filing, despite rising financial pressures.
For a look at what the new bankruptcy law means for individuals, click here.