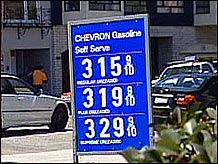 The middle class is struggling to keep up with rising gas prices. CNN's Christine Romans reports (August 16)
Play video

NEW YORK (CNN/Money) - Skyrocketing oil prices fueled consumer prices higher in July, a government report indicated Tuesday.
The Consumer Price Index, the broad measure of retail prices and inflation, rose 0.5 percent, edging above Wall Street estimates, after having held steady in June.
Economists surveyed by Briefing.com had forecast a 0.4 percent rise in the overall price reading.
The so-called core-CPI, which excludes often volatile food and energy prices, was up 0.1 percent, after a 0.1 percent rise in June. Economists were expecting a 0.2 percent rise in the closely watched core number.
A 14.2 percent rise in energy prices over the past 12 months, including a 3.8 percent increase in energy prices in July, was responsible for much of the increase in overall prices.
The American Automobile Association (AAA) said prices at the pump struck another record high Tuesday with the nationwide average price of a gallon of regular unleaded hitting $2.524, up 4 cents from the previous day.
In the last year, prices have gained nearly 67 cents, or about 36 percent.
Outside of energy, transportation costs rose 1.5 percent. Gas prices rose 6.1 percent, while prices for new vehicles fell 1.0 percent in July due to increased incentive programs from the big three U.S. automakers.
But prices for food and clothing remained relatively tame. Food costs rose a marginal 0.2 percent last month while apparel prices fell 0.9 percent.
"It seems as though the inflation report provided a few component surprises but no overall surprises as apparel prices continued to drop despite the expectation that they would stabilize or rise slightly," J.P. Morgan senior economist Anthony Chan, said in a comment emailed to CNN/Money.
"Other components such as medical care prices and housing, however, came in a bit firmer, thereby offsetting the moderating impacts of employee-discount priced automobiles and PC's," he added.
Chan said he didn't believe that the July report would cause any unpredictable action from the Federal Reserve in the coming months pertaining to interest rates.
Said Chan," Yes, energy prices are still rising at a towering pace, but we continue to see little evidence of serious penetration of such price pressures into the overall economy. Even as the core CPI creeps up to the upper end of the Fed's tolerable range at 2.1 percent, the overall mix of this report continues to provide full justification for an easy as she goes monetary policy."
----------------------
Another record at the pump. Click here to read more.