But what about its legal woes?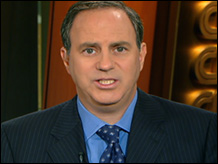 A back to school boycott at Wal-Mart? CNN's Andy Serwer explains. (August 10)
Play video

NEW YORK (CNN/Money) - While Wal-Mart Stores blamed higher gas prices for cutting into its sales in the second quarter, CEO Lee Scott said Tuesday he's concerned that the worst may be yet to come.
"I do feel good about the economy, but I worry about the effect of higher oil prices," Scott said during the pre-recorded call that was monitored by telephone in New York. "Wal-Mart will continue to face a challenge as the year progresses."
Wal-Mart (Research) stock was down over three percent on the New York Stock Exchange.
Tom Schoewe, Wal-Mart's chief financial officer, chimed in during the call, adding that Wal-Mart was hit with a double-whammy because of the escalating price of fuel.
On one hand, higher gas prices will continue to cut into the pocketbooks of Wal-Mart's predominantly low-to-mid-income customers.
"That will impact our operating income," Schoewe said.
Wal-Mart maintains that it averages about 100 million customers a week to its stores, making the retailer a good barometer of the mood of the consumer.
At the same time, Schoewe said more expensive fuel was costing Wal-Mart more on the back end of the business, primarily to use its vast trucking fleet to move freight around the country to its stores.
"This impacted our operating profit by $30 million and our total utility expense rose by $100 million in the quarter," Schoewe said.
Because of the "uncertainty" of the direction of oil prices, Schoewe said Wal-Mart was keeping its third-quarter and full-year profit forecasts within a "wide range."
Wal-Mart (Research) expects third-quarter earnings to come in at 55 to 59 cents a share. That's below the top end of analysts' range of 57 to 62 cents a share for the period. Sales at its stores open at least a year-- a key retail measure known as same-store sales -- were expected to rise between 3 to 5 percent for the period.
Full-year profits are expected to be $2.63 to $2.70 a share, compared with analysts' forecasted range of $2.56 to $2.70 a share for the period ending Jan. 31, 2006.
"Right now, the middle of the range seems reasonable," Schoewe said.
The consensus analysts' estimate for the third quarter is for a profit of 60 cents a share for the third quarter and $2.66 for the full year, according to First Call.
Wal-Mart is also struggling with keeping its expenses down, Scott said.
"We did not meet our goals as our expenses in the quarter grew faster than our sales," Scott said. "Our inventory grew less than last year even as sales increased."
These two factors will increase financial costs for the company, although Scott said he was confident that any negative impact of that would be offset by higher gross margins.
On a positive note, Scott said inflation appeared under check as Wal-Mart customers paid about the same amount of dollars for the same basket of goods compared to last year.
Sluggish sales
Wal-Mart (Research), the world's largest retailer, said it earned a record $2.8 billion, or 67 cents a share for the period ended July 31, up 5.8 percent from $2.7 billion, or 62 cents, in the prior year. Sales for the period came in at $76.8 billion, up 10.2 percent.
Analysts had expected the company to earn a profit of 65 cents a share for the period on sales of $77.4 billion, according to First Call.
"Early in the quarter, our results were disappointing," Scott said. "However, July came in stronger than expected. Wal-Mart Stores did miss their plan as our customer continues to be impacted by higher gas prices, and it is difficult to improve our expense leverage in the current environment."
However, hot and steamy weather pushed sales of bigger-ticket items such as air conditioners, helping to boost Wal-Mart's bottom line.
Scott said he "felt good" about back-to-school sales. In its ongoing bid to attract higher-income consumers and compete more effectively with rival Target (Research) which has been outpacing Wal-Mart in same-store sales growth, Scott said Wal-Mart was continuing to push for more depth in its mid- and premium-priced products, particularly in consumer electronics.
Total U.S. comparable sales for the quarter increased 3.5 percent, which is represented by a 3.6 percent increase for Wal-Mart Stores and a 2.9 percent increase for Sam's Club.
_____________________
Stock Spotlight: Time to buy Wal-Mart? Click here to read more.