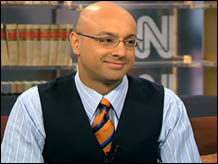 CNN's Ali Velshi takes a closer look at a potential mechanics' walkout at the airline. (August 19)
Play video

NEW YORK (CNN/Money) - Talks between Northwest Airlines and its mechanics resumed Friday with the union saying there appears little chance to avoid a Saturday strike.
Steve MacFarlane, assistant national director of the Aircraft Mechanics Fraternal Association, said that the company Thursday night made what it termed its "last, best offer."
But MacFarlane said the offer could not be accepted because it would cause about half of the 4,400 mechanics-union members at Northwest to lose their jobs -- and result in deep cuts in pay and benefits for those who remain.
At 12:01 a.m. ET Saturday, a federally mandated 30-day cooling off period ends, and the mechanics are free to strike the nation's No. 4 airline.
"I'm certain that (the union negotiating committee) will reject it if we haven't (already) because it falls well short of what we need," said MacFarlane. "They have failed to even start addressing some of our needs."
Northwest did not confirm its latest offer, but did say that the two sides were back at the table with federal mediators. Northwest (Research) says it needs $176 million in annual cost savings from the mechanics as part of a target to cut labor costs by $1.1 billion annually.
In the event of a strike, Northwest says it has contingency plans to keep flying its daily 1,600 flights and 177,000 passengers. The plan includes at least 300 members of management, about 1,200 replacement workers and a series of outside contractors.
If management can avoid disruption, that will put even more pressure on airline unions, already weakened by the industry's financial problems.
But if the unions do shut down Northwest, it will almost certainly brings another round of bankruptcy filings to the battered industry. That could be a step some industry analysts see as a long-overdue reduction in the number of airlines.
Will planes keep flying?
The unions have expressed doubt that Northwest can avoid disruption.
"Even if we don't shut them down completely the first day, as time progresses it'll get worse, and they'll have more and more equipment on the ground," said MacFarlane.
While the pilots union has not taken a position on whether its members will cross picket lines to fly the planes, the Professional Flight Attendant Association, which represents 9,500 members at Northwest, could announce a sympathy strike. A rank-and-file vote will be completed just as the midnight deadline is reached.
"[Northwest] may be able to handle a strike by one group, but there's no way it can handle a strike by two groups at the same time," said Bob Krabbe, the assistant contract administrator for the pilots union.
The unions say that they're willing to negotiate hundreds of millions of dollars worth in annual cost savings, but that they're not willing to open the door to having their jobs outsourced to contractors and non-union employees.
The company says that union concession offers have fallen far short of the more than $1 billion in annual cost savings Northwest needs to stay out of bankruptcy.
Stock gaining altitude
Northwest stock has actually been rising in volatile trading this week, with some analysts suggesting that a strike could be the best outcome for the airline and shareholders. Shares gained 48 cents, or 9.6 percent, in trading Thursday to close at $5.48, although shares lost 2 percent in early trading Friday.
"Frankly, we're hoping for a strike," said Jamie Baker, a JP Morgan Securities airline analyst, in a recent note to clients. He said that while Northwest stock would probably see a bounce from a last-minute deal to avoid a strike, it would get an even bigger lift if management could make good on its promise that it can fly through a strike. That would further weaken the resolve of other unions.
But analysts warn that if the news this weekend shows grounded Northwest planes and stranded unhappy customers, the stock will likely plunge next week.
"Snaking passenger lines, airport blockades and crying babies will likely prove Northwest's contingency planning inadequate, not to mention our broader investment thesis," Baker admitted to clients.
While the union employees have a lot to lose in bankruptcy court, union leaders say they've watched as unions have granted other airlines concessions, only to see the airlines file for bankruptcy anyway. Those airlines then used the bankruptcy courts to win further concessions and walk away from pension obligations.
"We realize Northwest is likely to file for bankruptcy anyway," said MacFarlane. "While bankruptcy is not a great option, for us it doesn't seem to be the worst option."
President Bush could end a strike with an executive order appointing a panel to come up with a compromise recommendation.
But the White House, which used that power in early 2001 to keep the Northwest mechanics on the job, has said it is not looking to do so this time. It is seen as a position that favors management's efforts, but the unions say they wouldn't be surprised to see the president step in.
"They believe they have ability to fly around a strike," said MacFarlane. "When they find out they're wrong, they'll go back to administration."
For a look at how changes in bankruptcy laws could prompt airline bankruptcies, click here.