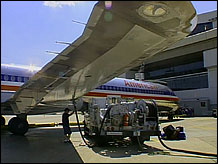 American Airlines is getting creative to save on fuel costs. CNN's Allan Chernoff reports (August 18)
Play video

NEW YORK (CNN/Money) - After seven consecutive days of price hikes at the pump, American consumers may be surprised to know that they are still paying a lot less at the pump than drivers in many other countries.
Motorists living in such cities as Paris or Tokyo are paying at least twice as much as American driver for a gallon of regular gasoline in U.S. dollars, according to consulting firm Associates for International Research, Inc.
Friday morning, the travel club AAA reported that the average price of regular gasoline in the United States hit a new high of $2.601 per gallon, climbing nearly 2 cents from Thursday's record.
The price of a gallon of regular unleaded gas has jumped about 19 cents during the past week, about 73 cents, or almost 39 percent over the last year.
While higher gasoline prices in other regions of the globe won't ease the pinch on American consumers pocketbooks, U.S. drivers will surely wince knowing that some drivers in oil-producing countries, like Venezuela, pay as little as 12 cents for a gallon of gas.
Pump prices in Kuwait City for August averaged 68 cents a gallon in August, while Cairo drivers could expect to pay 59 cents per gallon during that same time.
In Saudi Arabia, where pump prices are regulated by the government, the average price of gasoline right now is 92 cents per gallon, according to Nail Al-Jubeir, a spokesperson for the Saudi Arabian consulate in Washington, D.C.
He said the price difference for drivers in his country versus American motorists is linked to a number of factors.
"There's no cost of shipping, no taxes and the overall cost of refining gasoline is cheaper than anywhere else," said Al-Jubeir, pointing to a number of modern refineries built in his country within the last few years.
Gasoline prices quoted by Associates for International Research Inc. were based on August 2005 currency exchange rates.
__________________________________
Want to save gas without switching cars? Click here.
Click here for CNN/Money's special report 'Oil Crunch 2005'.