RESEARCH A CAR
Get invoice and market prices, specs, reviews and photos

GET A QUOTE

RESEARCH A USED CAR
Get used car pricing, reviews, ratings, and more.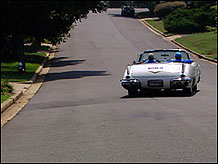 CNN's Kimberly Osias catches up with an advocate of American-made ethanol. (August 20)
Play video

NEW YORK (CNN/Money) - If teens had their choice of a car, they'd take a Ford Mustang, according to a recent poll. But parents put the Mustang at the bottom of the list of cars they'd want for their kids.
An on-line poll administered by the vehicle pricing company Kelley Blue Book, showed that drivers age 16 to 25 ranked stylish vehicles such as a Mustang or a Jeep Wrangler as their top vehicle choices, while their parents preferred something more sensible, like a Toyota Corolla.
The 2000 Honda Civic ranked highly with both parents and teens. It was the top choice for parents and third choice for teens.
The 2001 Mustang and the 2002 Corolla were the most polarizing cars. The Mustang was the favorite for teen drivers but ranked dead last as a car parents would want to see their kids drive.
The Corolla was the car teens least wanted to drive, but it ranked second among parents.
"Young drivers, who often are very image-conscious, prefer the sporty 'cool cars,' but parents seem more concerned with safety and practicality when it comes to having their children behind the wheel," said Jack R. Nerad, an executive market analyst for Kelley Blue Book.
The online poll, which was conducted at Kelley Blue Book's Website, asked young drivers to rank eight used cars they would prefer to drive, while parents were asked which of those same vehicles they would pick for their children.
The poll had respondents choose from a list of used vehicles priced at about $10,000. Overall, 399 parents and 509 young drivers took the poll. Only in-market used car shoppers were surveyed, said Robin Eckard, a spokeswoman for Kelley Blue Book. The survey has an estimated two- to three-percent margin of error, she said.
The top choice among kids was the 2001 Ford Mustang, receiving 27 percent of the votes, followed by the 2000 Jeep Wrangler and 2000 Honda Civic. The 2000 Volkswagen Jetta and the 2000 Acura Integra ranked fourth and fifth respectively, while the 2000 Ford Explorer and 2000 Toyota Tacoma took sixth and seventh place. The 2002 Toyota Corolla was ranked last, getting only three percent of the votes among young drivers.
Parents, on the other hand, ranked the 2000 Honda Civic as their first choice for their kids, earning top choice among 23 percent of the parents polled. The 2002 Toyota Corolla and 2000 Toyota Tacoma followed as the second and third most-popular choices, while the 2000 Acura Integra and 2000 Explorer took fourth and fifth place. The 2000 Volkswagen Jetta and 2001 Mustang ranked sixth and seventh respectively, while the Jeep Wrangler received the lowest ranking with only five percent of parents' votes for top car.
____________________________________________
Springing for a new car for you college student? Click here for some suggestions.
Cars mentioned in this story: