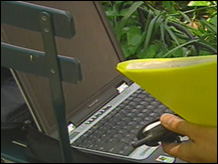 Here is how to stop your neighbors from borrowing your wireless connection. (August 16)
Play video

NEW YORK (CNN/Money) - Is your Google page too impersonal?
According to a published report Monday, the world's top search company has launched a free customized information tool similar to Yahoo's (down $0.36 to $34.00, Research) popular MyYahoo customized Web page service, in an effort to challenge both Yahoo and Microsoft.
Google's (up $0.01 to $280.00, Research) Sidebar, available starting Monday, can include weather forecasts, stock quotes, headlines and photo slideshows, and sits alongside whatever else the user is viewing, The Wall Street Journal said.
More significantly, Sidebar offers a text-editor function that allows users to type and save text notes, the report said.
The company hopes to use this function to launch an attack on Microsoft's (down $0.10 to $26.72, Research) Office software franchise, which includes the ubiquitous word-processing program Microsoft Word, according to the Journal.
"It's no question that we're competing with Microsoft today -- and with a lot of other people," Nikhil Bhatla, the product manager for Google desktop software, told the newspaper.
Unlike other customized Web home pages, Sidebar doesn't' require users to choose the information they want at their fingertips, the report said. Instead, they can allow Google to watch which pages are surfed and tailor make a homepage.
Google has named Yahoo and Microsoft as its top two rivals in a regulatory filing and it expects Microsoft "will increasingly use its financial and engineering resources to compete with us," the Journal said.
-------------------------
What if Google gave everyone free wi-fi? Click here for more.