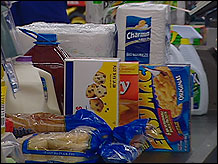 Consumers are looking for ways to alleviate higher gas prices. CNN's Allan Chernoff reports (August 23)
Play video

NEW YORK (CNN/Money) - Oil prices surged to record highs Wednesday after an unexpected drop in gasoline stocks added to worries that a gathering Caribbean storm could knock out crude supplies to the United States.
Light, sweet crude for October delivery settled at $67.32 a barrel, up $1.61, after spiking as high as $67.40. Just before the Energy Information Administration released its inventory report, the contract was up 49 cents at $66.26.
The previous record highs were set Aug. 12, when oil traded as high as $67.10 and settled at $66.86 on the New York Mercantile Exchange.
Crude oil prices jumped following Wednesday morning's EIA report that showed oil inventories had risen 1.8 million barrels from the previous week, while motor gasoline supples fell more than expected.
"To me, this looks like continuation of crude oil escaping the gravity of reality," said Michael Darda, chief economist with MKM Partners, noting that supply disruption fears in different parts of the world are to blame for record prices.
"It's too simple to say that higher crude will hurt the economy -- if there is a supply disruption that will definitely harm things, but supplies are growing rapidly and we have crisis demand holding up crude prices," he said.
While prices are at record highs, adjusted for inflation they are still below the levels that crude oil prices hit in the late 1970s and early 1980s.
Tropical Storm Katrina's gathering strength over the Bahamas has been of particular concern among traders, who fear that the storm will take aim at Florida's southern tip and the oil producing Gulf of Mexico, which accounts for up to a quarter of U.S. oil output.
A temporary halt in crude exports Tuesday in Iraq's southern Basra terminal and recent production cuts in Ecuador have also helped push crude prices higher.
American consumers, however, are focused on prices at the pump.
The average price of a regular unleaded gallon of gasoline within the United States on Wednesday was $2.607. Pump prices hit a record of $2.614 a gallon on Monday.
Gasoline consumption among U.S. drivers, however, continues to run high, averaging 9.5 million barrels a day, or 1.6 percent higher than last year, according to the EIA report.
American motorists may get a reprieve after Labor Day, which typically signals the end of the peak driving season and demand for gasoline typically tapers off.
_____________________
Got a gas gripe? Click here.
What's Merrill Lynch's prediction for oil prices over the long term? Click here.
How is the U.S. government trying to improve fuel efficiency in cars? Click here.
--from staff and wire reports