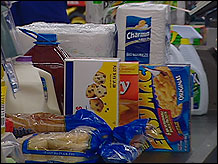 Consumers are looking for ways to alleviate higher gas prices. CNN's Allan Chernoff reports (August 23)
Play video

NEW YORK (CNN/Money) - Hawaii issued a list of wholesale price caps for gasoline, the state Public Utilities Commission said, amid this month's record-breaking run up in retail gas that saw island residents paying some of the highest prices in the nation.
This marks the first state cap on gasoline prices since the 1970s energy crisis, when the average inflation-adjusted price of a gallon of regular unleaded hit $3.
Hawaii's recently enacted gas cap law goes into effect on September 1, with the pre-tax wholesale cap in Honolulu set at $2.1578 cents.
AAA said gasoline hit a record high Monday with the national average price at $2.614 for a gallon of regular unleaded. Hawaii had the highest average price Monday at $2.824, 21 cents higher than the new record and within reach of the inflation-adjusted high.
Higher-than-average taxes on gasoline in Hawaii contribute to those high prices. The state levies a 16 cent per gallon tax, and various local authorities add on other taxes.
In Honolulu, for example, total state, federal and local gas taxes amount to about 53 cents per gallon, one of the highest rates in the United States. The national average, according to the American Petroleum Institute, is about 42 cents per gallon.
The new price-control law states that no manufacturer or wholesaler may sell regular unleaded to a retail gas station or another wholesaler for more than the maximum pre-tax wholesale price set each week by the state for each Hawaiian island.
According to local media, proponents of the law say it was created to keep Hawaii's refiners from taking advantage of the isolated market by charging high prices as crude costs rise and not lowering prices to reflect dips in crude costs.
In filings with the Public Utilities Commission, three oil companies -- Shell Oil Co., Tesoro Hawaii and Chevron USA -- tried to delay the law, saying more studies were needed to determine how it would effect the economy and consumers.
Hawaii's Star Bulletin reported that Governor Linda Lingle (R) is an opponent of the caps. The newspaper said Lingle believes it would be better to force oil companies to open their books and show consumers how much money they make at each stage of business.
"It's a feeling people have that they're being gouged. I think that's what bothers people most, is that they feel they're being charged unfairly simply because we have no other choice," she told the newspaper.
Other critics say the gasoline caps could result in shortages if suppliers leave the island for better profit margins elsewhere.
---------------------
Credit cards are easing pump pain... for now. Click here for the full story.
Readers have got a lot of gas gripes -- click here.