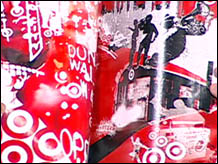 CNN's Ali Velshi looks at the retailer's bold play to snap up all the ad space in the upscale magazine. (August 24)
Play video

NEW YORK (CNN/Money) - Times are tough for business publications, but that isn't stopping Condé Nast Publications from breaking into the market, according to a published report Thursday.
The New York Times reported that the magazine company, which is owned by Advance Magazine Group, plans to start a business magazine and Web site.
A new business group will oversee the new ventures, which could include business conferences and seminars, the newspaper said.
It said the announcement comes at a time when business publications, including BusinessWeek, Fortune and Forbes, are struggling with advertising revenues.
But Condé Nast said the drop in advertising revenues at other publications creates opportunity for the company, the report said.
"Everybody has said that the category is in a slump," Charles H. Townsend, chief executive of Condé Nast, said in the report. "I don't see that the category has particularly responded well to the slump that they're in."
The Times said editorial efforts will be headed up by Joanne Lipman, deputy managing editor of the Wall Street Journal, while the business group will be run by David Carey, publisher of the New Yorker magazine, another Condé Nast publication.
The move also is an effort by Condé Nast, whose magazines include Modern Bride, Vogue, Allure, Self and Lucky, to expand its reach to a broader male audience, the report said.
Lipman and Carey will begin working on a prototype of the new magazine next month, although the company offered few details.
"I'm reluctant to talk about it," Thomas J. Wallace, editorial director of Condé Nast, the newspaper quoted him as saying. "We're so far away from bringing this out, and this magazine is going to be Joanne's vision."
----------------
Is there profit to be found in newspaper stocks? Click here.
Playboy is going digital. For more, click here.