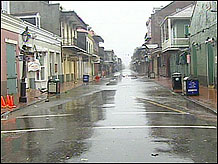 From fuel prices to businesses to homes, Hurricane Katrina's economic ripple will be costly. CNN's Mary Snow reports.
Play video

NEW YORK (CNN/Money) - Hurricane Katrina could end up costing the insurance industry about $16 billion, making it one of the most expensive storms in history for U.S. insurers.
Risk modeling firm Eqecat initially estimated that the hurricane, which slammed into Louisiana as a category 4 hurricane Monday, would cost the industry $15 billion to $30 billion in insured losses, but later revised that forecast twice, first to $12 billion to $25 billion and then to between $9 billion and $16 billion.
The company said it would look to revise those estimates after it does an on-the-ground assessment of the damage. The drop in insured loss value reflects the storm's weakening and landing farther east than forecast, Eqecat said.
"The reduction was based on the fact that winds were lower than expected and the track of the storm is 25 miles to the east of the expected track last night," Tom Larsen, senior vice president of Eqecat, told CNN/Money Monday. "That puts New Orleans onto the lean side of the hurricane."
Another risk modeling firm, AIR Worldwide, estimated that Katrina could cost the industry between $12 and $26 billion, but that number is expected to be revised lower.
Katrina could still end up as the one of the costliest storms ever for the nation's insurance industry. Hurricane Andrew previously held that distinction, causing $15.5 billion in insured damage in 1992. Adjusted for inflation, Andrew resulted in more than $25 billion in insured damage.
Shares of many insurers and reinsurers fell Monday, though some analysts said the move was an over reaction on the part of investors. (For more on that story, click here).
Storm surge and heavy rains have made flooding a major concern throughout the area. About 70 percent of New Orleans is below sea level and is protected from the Mississippi River by a series of levees.
Risk Management Solutions issued a preliminary estimate of $10 billion to $25 billion in total insured losses from Katrina but unlike Eqecat and AIR Worldwide, the estimate includes potential damage to offshore oil and gas rigs.
Eqecat's Larsen said that in 2004, Hurricane Ivan cost the insurance industry about $2 billion in damages to oil rigs. But Katrina's trajectory places the storm in an area with even more oil platforms with higher winds, increasing insurers' risk of exposure.
It often takes days or weeks after a major storm to assess damage and several insurers said Monday that it was too soon to estimate losses. Katrina may have generated $2 billion in claims when it tore through Florida on Friday, analysts said.
Allstate, American International Group Inc., the Louisiana Farm Bureau Mutual Insurance Co. and St. Paul are the big among the biggest in Louisiana, while Mississippi Farm Bureau Mutual Insurance Co. and Allstate follow in Mississippi.
Ray Stone, vice president of catastrophe operations at St. Paul, said flooding in the city is a big worry, according to Reuters. St. Paul does not expect to be able to assess losses before Wednesday.
-- from staff and wire reports
___________________
Click here for tips on how to prepare for storm costs.
What is Katrina doing to oil output? Click here to find out.