More on Katrina's fallout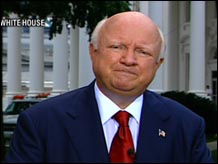 Energy Secretary Samuel Bodman says the U.S. will release oil from the nation's Strategic Petroleum Reserve to help refiners hurt by Katrina. (August 31)
Play video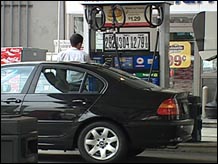 Another day, another record at the pump. CNN's Allan Chernoff reports.
Play video

NEW YORK (CNN/Money) - Energy Secretary Samuel Bodman said Wednesday that the White House plans on tapping the nation's Strategic Petroleum Reserve to help refiners hurt by Hurricane Katrina.
Bodman said in interviews televised on CNN and other networks that officials have not determined the amount of crude oil that will be drawn from the reserve, but that it would be a loan to refiners.
"The SPR was put in place specifically for this kind of an event," Bodman said in one interview. "We now have, in some instances, problems with getting crude to some refineries."
Bodman said that crude oil from the reserve should be available to refiners as early as Thursday.
Several analysts contend there is already an adequate supply of crude oil, but that the lack of electricity in the region will create a bottleneck at refineries processing oil from the Strategic Petroleum Reserves.
U.S. crude oil prices fell 46 cents to $69.35 in electronic trading following Bodman's comments. Crude prices had risen above $70 a barrel Tuesday before settling up $2.61 at $69.81 a barrel in New York.
The reserve, the government's emergency stockpile of crude oil, was created in the aftermath of the 1973-74 oil embargo and is overseen by the Energy Department. Oil in the reserves is estimated at more than 700 million barrels, stored in underground caverns in Louisiana and Texas, according to Reuters.
Currently there are 700.6 million barrels of oil in the Strategic Petroleum Reserve, according to a Department of Energy spokesperson.
After Hurricane Ivan struck last September, the U.S. government loaned more than 5 million barrels of crude oil from the reserve.
Evan Smith, an analyst for US Global Investors, said the decision by the White House will probably ease demand in the market for crude in the short run, but noted that bigger problems loom on the horizon.
"You might have more oil out there and it will probably depress crude prices but it won't do anything for gasoline, diesel or heating oil," said Smith.
Hurricane Katrina slammed into Louisiana and Mississippi on Monday, halting crude oil production in the Gulf of Mexico and damaging deep-water oil facilities.
Some 95 percent of the Gulf of Mexico's oil output and more than 88 percent of natural gas production were shut as of Tuesday, the U.S. Minerals Management Service said.
The region produces more than 1.4 million barrels a day of oil for U.S. consumption, equal to about 7 percent of the country's demand.
Nine refineries were also closed along the Gulf Coast due to the storm, and four others scaled back operations, Reuters reported Tuesday. The affected refineries make up 10 percent of the U.S. refining capacity.
Many oil companies, such as Royal Dutch Shell, reported damage following initial inspections of some deep-water platforms. Drilling companies Ensco, Transocean and Noble all reported rigs adrift after the storm, the news agency said.
Daniel Lippe, president of Houston-based Petral Worldwide, said the scope of damage that Hurricane Katrina caused to platforms and rigs will play a role in determining crude prices.
"It really depends on how much damage is done to production platforms in the Gulf of Mexico," he said. "By Tuesday or Wednesday I suspect we'll know a whole lot more about damage in the offshore production area,"
Pipelines in the region have also been unable to pump gasoline to other areas of the country since Hurricane Katrina hit the Gulf Coast on Monday, cutting power to the conduits.
Red Cavaney, president and CEO of the oil industry group American Petroleum Institute, said that all evidence points the fact that Katrina will have a long-lasting impact on energy production in the Gulf Coast region.
"It is becoming increasingly evident that the impact of this storm on oil and natural gas operations will be significant and protracted," Cavaney said in a statement released Wednesday. "In the coming days and weeks, we commit to doing our best to minimize any inconvenience for consumers."
An official announcement on the reserve release is expected later this afternoon, Bodman said.
_________________
Is a gasoline crisis on the horizon? Click here.
Click here for CNN/Money's special report "Oil Crunch 2005."