More on Katrina's fallout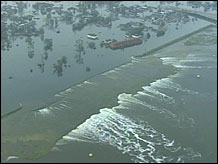 CNN's Christine Romans explains how Hurricane Katrina will affect the prices of a variety products (September 1)
Play video

NEW YORK (CNN/Money) - The human toll of Hurricane Katrina is already far too evident to anyone watching news reports this week, and the economic impact is evident to anyone who's pulled up to a gasoline pump.
But experts say that higher gasoline prices aren't the only economic fallout from the devastating storm.
Real estate and home construction, trade, agriculture and livestock -- even the purchasing power of the dollar -- are all likely to be impacted by the storm in the coming months.
And energy price increases will be felt by U.S. consumers, businesses and the broader economy, even beyond the sudden spike in gasoline prices.
Energy
Gasoline has seen a spike to a record national average of $2.86 a gallon on Friday, and $3 a gallon gas is now common in many markets around the country. Many speculate that $4 a gallon gas could be seen in some markets soon.
Crude oil prices retreated somewhat on Friday, but higher crude prices could be ahead, perhaps above $80 a barrel by some estimates, by year-end.
"If we look at Hurricane Ivan (which hit the Gulf in 2004), oil prices continued to go up for more than a month," said A. F. Alhajji, associate professor at Ohio Northern University. "Companies continued to work on their facilities but there were always delays restoring production."
As colder weather comes, heating oil and natural gas price hikes could replace concerns about prices at the gas pump for some consumers.
Natural gas prices, which were already expected to rise 15 to 25 percent from last winter even before Katrina, saw futures prices jump about 20 percent during the last week. Home heating oil is essentially the same product as diesel fuel, which has soared nearly 50 percent in the last year and more than 15 percent in the last month alone.
Real Estate
Real estate and home building have been major drivers of the U.S. economy in recent years. The impact of Katrina on those important sectors are difficult to gauge, economists say.
On the one hand, the sharp fall in interest rates in the wake of the storm could keep mortgage rates low and continue to support home prices and building around the country.
But the demand for goods for rebuilding could cause shortages and price spikes for some goods, according to economists in the sector. The problem could be worsened by the fact that many imported building materials enter the country through the now closed Gulf ports
"I think the impact is going to be nationwide for construction," said Ken Simonson, chief economist for the Associated General Contractors of America, the trade group for non-residential builders.
Simonson said that the rebuilding effort could draw labor to the Gulf region.
"Contractors will have to raise wages to keep their workers in place," he said.
Dave Seiders, chief economist for the National Association of Home Builders, said he's not as concerned about labor shortages as he is about price increases for lumber and other building materials, which he estimates could mean $10,000 or more in higher costs for a new home.
Trade
The gap between U.S. imports and exports, already headed to a new record in 2005, is likely to grow even faster due to Katrina, according to experts.
The American Farm Bureau Federation estimates that there could be a $500 million export loss for U.S. producers who normally export through the Gulf ports. That loss could be longer term if international buyers to look to other sources, such as China for corn, or South America for soybeans.
"My expectation was the trade deficit would increase anyway into the low 60 (billion dollar a month) range," said international economist Jay Bryson of Wachovia Securities. "A $70 billion (monthly trade gap) sounds like a stretch, but we could be looking at the mid to high 60s now."
A growing trade deficit, coupled with any increase in the federal budget deficit due to emergency spending, would put downward pressure on the value of the dollar, which in turn could raise the price of imports for Americans.
A recession in the works?
The prospect that the U.S. economy will significantly slow is one reason many investors and analysts now believe the Federal Reserve may not raise rates at its Sept. 20 meeting, which would be the first time since May 2004 it left rates unchanged.
But there are growing concerns that the combination of higher energy prices and some transportation disruptions, coupled with lower economic activity in the Gulf region itself, could be enough to plunge the economy into an actual recession.
Higher energy costs are likely to be felt by businesses across the board, but probably first and foremost by industrial companies and the already struggling airline industry, which could see several new bankruptcies due to soaring jet fuel prices. Northwest Airlines (Research) cited the increased jet fuel prices Friday when it warned of increasing losses that could force it into bankrupcy.
While energy is not as important to the U.S. economy as it was during the oil shocks of the 1970s and early 1980s, it still can take a big bite out of consumer spending, which fuels more than two-thirds of economic activity.
"I don't think it's too soon to talk about a recession, even if I still think there's less than a 50-50 chance," said Doug Porter, deputy chief economist of BMO Nesbitt Burns. "Every other recent recession has been preceded by an energy shock. Certainly at the least there is a risk that growth will be curtailed."
One estimate puts the economic cost of Katrina at more than $100 billion. For more on that estimate, click here.