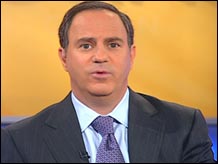 CNN's Andy Serwer talks about what to watch for when making a donation to the hurricane victims. (September 1)
Play video

New York (CNN/Money) - There are now some 4,600 Web sites advertising Hurricane Katrina relief services, and most of them are under suspicion of being bogus, FBI assistant director Louis Reigel said.
In addition, scammers are four times more prevalent than after the tsunami disaster, according to the watchdog site www.scambusters.org.
Scams include:
Phishing: In this scheme scamsters use fake Web sites that pretend to be legitimate relief organizations. If you click on the site and enter credit card or other financial information, it will be used to steal your identity. Any contributions you make go into the pockets of the scammers.

Viruses and trojans: Spam is sent that includes photos of disaster areas or individual survivors, and these attachments contain computer viruses. These can enable hackers to take control of your computer and obtain information that they can use for identity theft.

Fee-based spams: These are unsolicited e-mails that offer, for a fee, to locate missing relatives and loved ones caught in the hurricane
Don't let yourself get scammed.
The Justice Department, which has established a Hurricane Katrina Fraud Task Force to focus on phony charities, identity theft, insurance scams and government benefit fraud, recommends going directly to recognized charities and aid organizations' Web sites, as opposed to following a link to another site.
You can also follow these tips from the Better Business Bureau's Wise Giving Alliance to make sure your contribution goes to the people who need it.
1) Do not give cash. Make out checks to the organization, not to the person soliciting the contribution.
2) If you are asked to donate money to an organization that you are not familiar with, you can check a variety of sources before sending any money – such as the Federal Trade Commission, the Better Business Bureau's Wise Giving Alliance, the Internal Revenue Service's list of organizations eligible to receive tax-deductible charitable contributions, your state attorney general or your local charity registration office.
Or go to http://www.give.org/reports/index.asp and click on the Wise Giving Alliances reports on individual charities soliciting for Katrina relief. This will show what percentage of the funds each of these charities receives that normally goes to the actual cause.
3) Don't respond to e-mail requests. Legitimate charities do not use e-mail to solicit new contributors. ScamBusters says the chance that an e-mail request for a contribution is from a legitimate charity is near zero.
4) Don't feel pressured to give more than you feel comfortable with. Legitimate charities will accept and be grateful with whatever you choose to contribute.
For more tips on responsible charitable giving, click here.