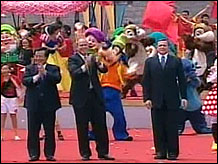 CNN's Gerri Willis reports on contracts to rebuild New Orleans, Disney's arrival in Hong Kong and more business news (September 12)
Play video

NEW YORK (CNN/Money) – The Hong Kong Disneyland theme park opened with much fanfare on Monday.
Outgoing chief executive officer Michael Eisner and his replacement, Bob Iger, were on hand with Mickey Mouse and Minnie Mouse for the big celebration.
But while Disney execs and cartoon characters were partying on Main Street, U.S.A., the mood wasn't as jovial on Wall Street, U.S.A. Shares of Disney were flat on Monday, a continuation of a challenging year for the company's stock.
Despite a turnaround at Disney's ABC television network, the stock is down 10 percent in 2005. Shares of Disney (Research) and other major media rivals have all slipped due to concerns about growth.
Still, Disney's expansion into the lucrative Chinese market could give the company a leg up on its competitors, some say.
"This raises awareness and gives Disney a physical presence in China," said Laura Martin, an analyst with independent research firm Soleil – Media Metrics. "It is a great beachhead for promoting the Disney brand."
To that end, Martin thinks that the most important role of the park will be in creating more interest in Disney's vast library of movies and other products tied to its stable of cartoon characters.
And during Disney's fiscal third-quarter earnings conference call with analysts last month, Iger stressed how important it is for Disney to establish a foothold in China.
"Growing up in United States in the 50s, I remember how Disneyland was a beacon to many of Americans and it still is. I firmly believe Hong Kong Disneyland will similarly be a beacon to millions of people in Hong Kong, mainland China, and throughout southeast Asia. It should stimulate great interest in Disney, and provide a dependable growth platform in that region of the world," he said.
Bumpy ride in the short-term?
Analysts aren't expecting the Hong Kong resort to lead to an immediate financial windfall, however.
Disney will be not receiving the full cut of profits from the park since it is actually a minority investor in the Hong Kong resort: Disney owns 43 percent and the local government of Hong Kong owns the remainder. According to Disney, the company will receive royalty payments ranging from between 5 percent and 10 percent of the admission, merchandise and hotel revenues as well as management fees.
David Miller, an entertainment analyst with Sanders Morris Harris, wrote in a report last week that Hong Kong Disneyland should generate about $35 million in operating cash flow in fiscal 2006, less than 1 percent of his total cash flow estimate.
Still, Miller thinks that the opening of the park could be a positive for the stock. That's because while the company has told analysts that it expects about 5.6 million visitors within the first year, Miller thinks that based on pre-sale data for the park so far, Disney should "easily eclipse that number."
Longer term, international growth, particularly in Asia, is seen as a key factor in Disney's success going forward. There has been talk that Disney is hoping to another theme park in China, in Shanghai, sometime in the next decade.
"If the Disney name resonates with the Chinese consumer, it would be a huge coup for the company," said Ted Parrish, co-manager of the Henssler Equity fund, which owns Disney. "If Disney wants to maintain earnings growth in the high teens going forward, China will be a big source of that." Analysts currently expect Disney's earnings to grow at about a 12 percent clip a year, on average, for the next few years.
But it remains to be seen just how popular the Hong Kong resort will be with Chinese consumers. Disney needs to avoid some of the problems it has made with past attempts to expand internationally, most notably when it first opened Euro Disney, now known as Disneyland Paris, in 1992. Disney was criticized by many for failing to include important aspects of French culture into the park.
Michael Cuggino, president of Pacific Heights Asset Management, which owns Disney in the Permanent Portfolio and Permanent Portfolio Aggressive Growth mutual funds, said that he would not be surprised if there is some backlash among Chinese consumers in the short-term but that over the long haul, an investment in China still makes a lot of sense.
"Anytime you export culture, you're going to have short-term blips so I would be surprised and shocked if they didn't experience some of the things that they experienced in Europe," he said. "But the appeal of Disney characters are, to a large degree, universal with kids."
In addition, while admission prices for Hong Kong Disneyland are cheaper than at its U.S. counterpart in California, they may still be too expensive for the average Chinese person.
According to the park's web site, a one-day pass for someone over 12 at Hong Kong Disneyland costs about $295 HK on a normal weekday while a pass for someone between the ages of 3 and 11 costs $210 HK. That works out to about $38 and $27 U.S. dollars respectively. A similar pass at Disneyland in Anaheim costs $56 for an adult and $46 for a child.
For this reason, Parrish said that Disney will need to capitalize not just on the small but growing segment of wealthier Chinese consumers that will be interested in the park, but also on increased international travel to Hong Kong and China overall, especially since the 2008 Summer Olympics will be held in Beijing.
Jake Balzer, an analyst with Guzman & Co., a Miami-based investment bank, agreed that the success of the Hong Kong park is not tied exclusively to local tourism.
"Disney isn't trying to limit themselves to one market or the other. They are going about this in a methodical, thought out way," he said.
For CNN's coverage of the Hong Kong Disneyland opening, click here.
For a look at more media and entertainment stocks, click here.
Analysts quoted in this story do not own shares of Disney and their firms have no investment banking relationships with the company.