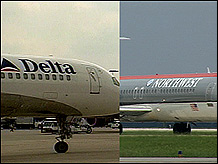 High fuel prices trigger a pair of airlines to seek bankruptcy protection. CNN's Chris Huntington reports (September 15)
Play video

NEW YORK (CNN/Money) - The airline industry's five-year financial crisis came to a head Wednesday evening as Delta Air Lines and Northwest Airlines, two of the nation's largest carriers, both filed for bankruptcy.
Delta, the nation's No. 3 airline, filed first. (For more on Delta's filing, click here.)
Northwest, the No. 4 carrier, followed within minutes. (Full story.)
Both cited the recent spike in jet fuel costs, which have soared nearly 20 percent since June 1, as prime reasons for seeking protection from creditors under Chapter 11 of federal bankruptcy laws.
"This is a coincidence, but what a coincidence," said industry consultant Michael Boyd. "This is another 9/11. Most carriers adjusted to that, but now we have another 9/11 that's called fuel. And we have another half of a 9/11 called pensions.
"The problem is there is so much competition out there, that fares get driven into the cellar," he added. "All this does is get two carriers into position where they can better deal with it, but it's not going to solve the basic problem that the industry [pricing] is irrational."
The two carriers joined No. 2 United Airlines (Research), which has been operating under bankruptcy protection since December 2002, and US Airways (Research), which is in its second trip to bankruptcy court since the Sept. 11 terrorist attacks.
With the twin filings Wednesday, nearly half of the domestic industry's capacity is now on carriers operating in Chapter 11, according to an estimate from Bear Stearns. In Chapter 11, a company is protected from creditors while it keeps operating and tries to cut costs and reorganize.
There have been only a few profitable quarters for a few of the major airlines since the beginning of 2001, when a downturn in business travel eight months ahead of the Sept. 11 attacks started the red ink flowing.
The Air Transport Association estimates that from 2001 though 2004, the industry posted net losses of $32.3 billion, even with the profits made at lower-cost carriers such as Southwest Airlines and JetBlue.
Losses of another $9 billion to $10 billion are expected in 2005, and few analysts are projecting when there might be a return to profitability.
Both Delta and Northwest said they would keep flying, saying passengers should not be affected by the filings.
Delta, founded in 1928 in Monroe, Louisiana, (hence the airline's name), is now based in Atlanta and flies some 340,000 passengers on about 1,870 flights a day.
Northwest, which started flying mail in 1926 and passengers a year later, carries about 160,000 people on its 1,450 flights a day.
--------------------------------------
For more on the turbulence the industry is facing, click here.
For the impact on passengers, click here.