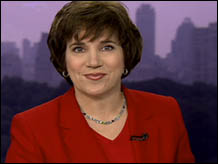 CNN's Kathleen Hays reports on the Fed raising a key short-term interest rate another quarter point to 3.75 percent. (September 20)
Play video

NEW YORK (CNN/Money) - The big surprise in Tuesday's Federal Reserve rate hike decision isn't what they did or even what they said about what they did. It's that some big cracks are appearing in the wall of policy consensus for the first time in over two years.
For starters, Fed governor Mark Olson dissented from the decision to raise the key rate by a quarter point to 3.75% because he wanted the Fed to leave rates unchanged. Dissents are very rare, and not at all what one expects under the tightly controlled steps that Fed chief Alan Greenspan likes to orchestrate.
The last such dissent was in June 2003 when the San Francisco Fed president, Bob Parry, broke from the crowd by arguing for a rate of 50 basis points instead of a smaller 25 basis point cut. But trust me they don't happen much.
On top of that, only seven of the 12 district banks submitted requests for the move when it is much more the norm that this request -- a formality to be sure -- would be submitted by all of the banks. Interesting too that the Dallas and Atlanta Federal Reserve banks whose districts include the Gulf Coast region were among the five that did submit rate hike requests.
So far, Wall Street is papering over the cracks. The economists say that this doesn't mean much, that it probably reflects the dissenters' focus on the short-term impact of Katrina, and that they are all on board with the Fed's longer-term goal of more and more rate hikes to fight inflation.
Diane Swonk of Mesirow Financial in Chicago says this is a public sign of the kind of dissent that may be brewing inside the walls of the Fed as Greenspan's departure draws nearer and as the uncertainty over the exact timing of his exit creates some tension among its members.
Beyond the inner politics though this dissent bears watching. There were many on Wall Street saying the Fed should wait. Didn't consumer sentiment just get crushed? Aren't gas prices still high, hurting consumers?
These September dissents may be a sign that there are skeptics inside the Fed like the skeptics on Wall Street who think the Fed could slow down its rate hiking campaign, at least for now. The façade has some cracks now. We'll see if they are patched or getting wider in the weeks ahead.
---
Kathleen Hays is economics correspondent for CNN. Read more of her columns here.