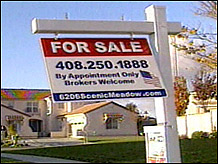 CNN's Kathleen Hays reports on plunging consumer confidence, falling new home sales and more business news. (September 27)
Play video

NEW YORK (CNN/Money) - The optimistic view of plunging consumer confidence is that it's due mainly to back-to-back monster hurricanes and the spike in gas prices that resulted.
According to this rosy view, as the Gulf Coast rebuilds and gas prices head south, consumer confidence will rebound as quickly as President Bush dumped his former FEMA chief.
The pessimistic view is that high gas prices aren't going away anytime soon and that this could continue to crimp consumers for awhile.
In this mindset, a steep drop in August new home sales, which occurred before New Orleans filled up with water, is evidence that Katrina and Rita are not the sole or even the main cause of a nationwide shift in sentiment.
On the face of it, a plunge in the Conference Board's index of consumer confidence to a nearly two-year low of 86.6 in September, after a rebound to 105.5 in August, was alarming. After all, it was the biggest monthly drop since October 1990, after Iraq invaded Kuwait and before the first U.S.-Iraq war.
"Hurricane Katrina, coupled with soaring gasoline prices and a less optimistic job outlook, has pushed consumer confidence to its lowest level in nearly two years and created a degree of uncertainty and concern about the short-term future," Lynn Franco of the New York-based Conference Board, a business research group, said in a statement.
But Franco, who should know a thing or two about these things, is not worried because she also predicted that lower gas prices and rebuilding after the hurricane would help boost confidence by early next year.
Economist Gina Martin at Wachovia Securities noted that basically happened last year after the quadruple hurricane hit in Florida: Confidence sank 10 points and then rebounded once rebuilding started, spurring new jobs and construction and all kinds of confidence-boosting stuff. The hope, of course, is that history will repeat itself.
But it's not just back-to-back monster hurricanes that are hurting consumer confidence now. And let's not forget that this same apparent loss of confidence has shown up in every major confidence survey.
High gas prices and a sense that something fundamental has changed in the oil market that will lead to prices staying high is also worrying people, according to the latest polls.
And maybe that's why consumers are so worried.
Confidence in the present state of U.S. economy fell sharply, and their expectations for the future fell even more dramatically, according to the Conference Board survey.
Economists say it is consumers' view of the future that most affects spending, which is crucial since consumer spending fuels nearly three-quarters of the nation's economy.
In fact, 20 percent of the 5,000 households polled said they expect business conditions to worsen over the next six months, while only 10 percent expected them to improve.
As for the job market, the number saying jobs are "hard to get" rose while the number saying jobs are "plentiful" fell. (For more on the report, click here).
And you can't blame a big drop in new home sales in August on Katrina, because all these numbers were gathered before it hit. New home sales fell a larger-than-expected 9.9 percent in August while the number of unsold homes jumped to a record high.
The Commerce Department report said sales of new single-family homes fell to an annual rate of 1.24 million units from a record high 1.37 million in July. (For more on the home sales report, click here.)
The August sales rate was up more than 6 percent from a year earlier. But the large decline from the previous month -- the biggest since November of last year -- pushed the supply of unsold homes up to a record 479,000 at the end of August, the department said.
The decline was broad-based, with sales down more than 10 percent in the West, Midwest and Northeast.
Mortgage rates are still low but if the Conference Board survey can be believed, the job market may be softening up a bit. Could this be the cause of a less hot housing market?
According to economist David Resler of Nomura Securities the report overall shows that, "The story of a broad topping in the housing market remains intact. "
Optimists can point to the very healthy jump in existing home sales in August that was reported on Monday.
But it's important to remember that the new home sales are recorded when buyers sign their contracts to buy while existing home sales are recorded when the sale actually closes, so economists consider the new home sales a more timely measure of what is going on in the housing market.
Taken together, both reports "point to much weaker consumption growth in (the fourth quarter) and potentially beyond, especially if the Fed pushes ahead with further tightening," said Andrew Pyle at Scotia Capital, referring to the Federal Reserve's signals that it will keep raising interest rates to fight inflation.
Let's hope the optimists at the Fed and on Wall Street are correct, and that consumers grow more optimistic too.
______________________________________
Kathleen Hays is economics correspondent for CNN. Read more of her columns here.