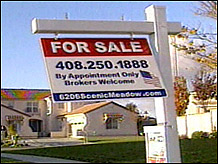 CNN's Kathleen Hays reports on plunging consumer confidence, falling new home sales and more business news. (September 27)
Play video

NEW YORK (CNN/Money) - Consumer confidence took the biggest tumble in nearly 15 years last month as Hurricane Katrina and the spike in gasoline prices put a surprisingly big dent in Americans' expectations for the economy.
The Conference Board said its consumer confidence index sank to 86.6 in September from a revised 105.5 in August, which was before the storm and the rise in gasoline prices that followed. Economists surveyed by Briefing.com had forecast that the index would fall to 95.
"Hurricane Katrina, coupled with soaring gasoline prices and a less optimistic job outlook, has ... created a degree of uncertainty and concern about the short-term future," Lynn Franco, director of consumer surveys at the New York-based business research group, said in a statement.
The drop was the biggest since October 1990 -- when gas prices were climbing after Iraq's invasion of Kuwait and ahead of the first U.S.-Iraq war -- and took the index to its lowest since 81.7 in October 2003.
The September decline was bigger than the 17-point drop after the Sept. 11 terrorist attacks, when confidence bounced back to pre-attack levels by the following January.
"Historically, shocks have had a short-term impact on consumer confidence, especially on consumers' expectations," Franco added. "Fuel prices remain high, though they have retreated in recent days, and when combined with a weaker job market outlook, will likely curb both confidence and spending for the short run."
A downturn in consumer confidence, especially if prolonged, can cause a sharp drop in spending. That in turn can slow the U.S. economy, which depends on consumer spending for nearly three-quarters of economic activity.
Markets shrug
Still, the stock market moved only slightly lower on the confidence report. While the survey showed more doubts than expected, it wasn't the first reading on confidence since the storm to show a decline.
And the financial markets were ready for a bad number, said Steven Wieting, senior economist at Citigroup. He said he's not sure even the plunge in confidence will put a brake on what's been relatively strong consumer spending recently.
"Seeing a two-year low in confidence in the wake of Hurricane Katrina isn't that surprising," said Wieting. "The news in the month of September has been terrible. The television coverage and the emotional impact of the story has a big effect on confidence in the short run. But spending has been inconsistent with these confidence numbers."
In its survey of 5,000 households, conducted through Sept. 20 , those claiming business conditions are "good" declined to 25.2 percent from 29.7 percent, while those claiming conditions are "bad" increased to 17.7 percent from 15.1 percent, the board said.
The view of the future turned even more sharply lower, with 19.8 percent now expecting business conditions to worsen in the next six months, nearly double the 10 percent looking for a downturn a month earlier.
Those expecting fewer jobs to be available in six months increased to 25 percent in September, up from 17.3 percent in August. And consumers anticipating their incomes to decrease in the months ahead rose to 10.8 percent from 8.9 percent in August.
The number of consumers looking for rough times ahead also overtook the 15.3 percent looking for improved business conditions in the next six months, down from 18.7 percent who had been looking for improvement a month earlier.
For more on the economy and how it affects you and the markets, click here.