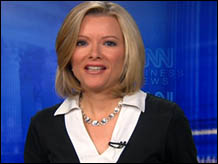 CNN's Gerri Willis shares five tips on beating sky-high heating costs this winter. (September 29)
Play video

NEW YORK (CNN/Money) - In light of the two massive hurricanes that battered the Gulf Coast, your household energy costs are going to skyrocket this winter.
What do you need to know and what do you need to do to contain some of those costs? Here are today's Five Tips Home Edition.
1. Winter pinch
According to Michael Gordon, energy economist and president and founder of Consumer Powerline, home heating and electricity across the nation are going to skyrocket. He estimates for an average 2,000 to 2,500 square foot house in the Northeast you can expect to pay as much as $2,200 this year for home heating oil -- an increase of $600 or more from last year's bill of $1,600.
The picture isn't much better in the Midwest and West where a majority of homes are heated by natural gas. He projects that you could be paying $400 more than last year bringing the cost up from $1,800 last year to $2,200 this year.
2. Co-op it
If your home uses heating oil for warmth you may be able to reduce the impact of skyrocketing prices. Co-ops are businesses and individuals that have pooled their energy buying power to purchase energy at wholesale prices. They then turn around and sell the energy to you, the consumer, at that reduced price. Most co-ops are not-for-profit organizations and you have to pay a membership fee to join.
There are, however, a few things to be aware of when shopping for a co-op -- first be sure that they tie their prices directly to the wholesale market, NOT to a discounted retail market. Also be sure you chose a co-op that is contracted with a legitimate energy supplier in your area.
3. Consider capping
When you cap your home heating oil price, you are essentially buying a contract that states that you will not pay more than the agreed upon price, even if the price goes up. If the price goes down, the contracts will stipulate that your cost will go down by a certain percentage.
Generally you can expect to pay $80 to $100 more for home heating oil per year. Buyers beware though, there are real caps and caps "in name only." If the wholesale price of heating oil goes above your cap you still could pay more for your oil.
A cap in which you can actually buy the contract is the best bet. Michael Gordon recommends capping rather than fixing because when you fix your oil price, you are betting on the markets to stay fairly stagnant.
4. Gauging gas
If you heat your home with natural gas you have fewer options for reducing the cost, since you are essentially tapped into a monopoly. That means it's all the more important to make sure that your furnace is working as efficiently as possible.
Have it tested by an accredited firm using a blower door test. Ratings of 75 and higher are considered good scores. If your score falls below that, install weatherstripping and caulk around doors and windows to prevent them from leaking. You may even consider replacing the windows themselves.
5. Electricity spike
Because most electricity in the US is generated by natural gas, the cost of turning your lights on this winter, is going to go up, too. Regionally, there will be differences in price increases because the price is overwhelmingly dependent on the transmission structure in your area.
According to Energy Auditor Matt Dean at the Association for Energy Affordability, making small changes in lighting and appliance choices can reduce your costs significantly.
Look for appliances with the Energy Star rating, indicating that they use less energy. Installing compact fluorescent bulbs can also significantly reduce your electricity use since they last longer and can save three-quarters of the electricity used by incandescents. Although the bulbs are more expensive than conventional bulbs, they last up to 10 years.
---
Gerri Willis is a personal finance editor for CNN Business News and the host for Open House. E-mail comments to 5tips@cnn.com.