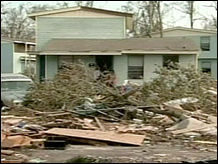 CNN's Tom Foreman reports on industries poised to profit from Hurricane Katrina's destruction. (October 2)
Play video

NEW YORK (CNN/Money) - Richard Scruggs, the attorney who helped win a $250 billion settlement from the tobacco industry a few years ago, is now taking on insurance companies over Hurricane Katrina flood coverage.
In a lawsuit filed Tuesday in a state court in Pascagoula, Mississippi, Scruggs said that by excluding water damage in "hurricane protection" policies, insurers "preyed upon trusting American families and taxpayers," adding that these contracts need to be reformed.
Scruggs named Nationwide Mutual Insurance Company and Jay Fletcher Insurance, among others, with failing to provide adequate insurance coverage and intentionally misleading policyholders about what their policies covered.
The accused insurers say their policies specifically exclude flooding caused by storm surge; the lawsuit says the policyholders were led to believe otherwise.
Insurance industry insiders were confident the challenge from Scruggs would fail.
"There is case after case on the books that have upheld the validity of flood exclusion language, exactly the language Mr. Scruggs is contesting," said Joseph Annotti, a spokesman for the Property Casualty Insurers Association of America.
"Flood insurance has been available from the federal government for nearly 40 years from the federal government through the National Flood Insurance Program, and insurers have not included flood coverage in policies for longer than that," he said.
If Scruggs were to successfully argue his case, Annotti said the immediate impact would raise the amount of claims liable by billions of dollars in Mississippi alone.
"More far-reaching than that, it would make the very insurance contract not worth the paper it's written on by virtually destroying the insurance market in the state," he added.
Scruggs filed the lawsuit on behalf of Paul and Julie Leonard, a Pascagoula, Miss., police lieutenant and his wife. The Leonards' home, located on the Gulf Coast, was damaged by Hurricane Katrina's storm surge.
The lawsuit argues that a Nationwide insurance policy the Leonards bought on their house in 2004 for $154,300, while not specifically saying storm surge damage is covered, purported to provide full coverage for any damage typically caused by hurricanes.
The lawsuit also says the insurance agent told the Leonards they did not need to purchase the additional flood insurance offered separately by the federal government.
The suit alleges that Nationwide sent the Leonards a letter on Sept. 12 denying coverage for their losses without inspecting damage to their home. It seeks what it calls "equitable relief under the law," the rewriting of insurance policies and coverage for the Leonards' home and property.
In a press release, Nationwide said Tuesday it had not yet reviewed the lawsuit, but said that its policies clearly state, "Hurricane coverage does not include loss caused by flooding, including but not limited to flooding resulting from high tides or storm surges."
Nationwide said if such exclusions were deemed null and void, it would have a significant negative impact on insurance policyholders across the country.
In September, Scruggs announced he would commence litigation against major insurers, including Nationwide, on behalf of Mississippi and Alabama Gulf Coast residents who have suffered damage from Hurricane Katrina.
Scruggs told CNN that he will not seek class-action status, but instead will file individual lawsuits from the thousands of homeowners he said have retained his firm. However, Scruggs said he will focus on one case in court and resolve all the other cases based on its outcome.
-- by CNN business news editor Tom Ziegler
------------------------
Mississippi Attorney General Jim Hood says insurers took advantage of Hurricane Katrina victims by not covering flood damage. Click here for the full story.
When disaster strikes, lawsuits follow. Click here for more.