RESEARCH A CAR
Get invoice and market prices, specs, reviews and photos

GET A QUOTE

RESEARCH A USED CAR
Get used car pricing, reviews, ratings, and more.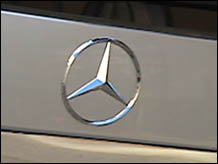 New crossover delivers lots of space with style. (October 13)
Play video

NEW YORK (CNN/Money) - 'Land yacht' is such an ugly term. It brings to mind the pointy-fendered Kojak-mobiles of the 1970s with swimming pool-sized hoods. But it really is the best term I can think of to describe the new Mercedes-Benz R-class.
In a Mercedes R-500, with shades drawn back from the stem-to-stern sunroof as I piloted down the New Jersey Turnpike toward Philadelphia, the warm sunlit feel inside the cabin reminded me of nothing else as much as a restful cruise in a sailboat.
Except that I was surrounded by the New Jersey Turnpike.
The R is roomy like a large SUV -- it even has a third row you can actually use -- but it handles more like a car. Well, like a limousine, perhaps.
In all, the Mercedes-Benz R-class is the crossover vehicle that, so far, best fulfills the promise of the species. It's a vehicle that really does deliver all the stuff people like about SUVs without the disadvantages that go with driving an off-road vehicle on paved roads.
Roots
Mercedes-Benz's sister-company, Chrysler, already has a vehicle rather like this called the Pacifica. But the two share no components and they're really very different from one another. The Pacifica, while it also drives nicely for a vehicle of its size, is more minivan-ish in shape and SUV-ish in driving character than the R-class.
While the R-class is four inches longer than the Chrysler Pacifica -- and it has a 10-inch longer wheelbase, making for a wider turning circle -- the R-class is much easier to manage in a crowd than it's wide-hipped, narrow-windowed cousin
The R-class is based on the same engineering platform as the Mercedes M-class SUV, which is already a very pavement-friendly machine except for some noisy tires. Lengthened and lowered, the R offers a different experience but whether it's better will depend on your driving tastes and your need for additional seats.
Like the Pacifica, though, the R seats only six, at most, not seven. There is no center seating position in either the second or third rows. That didn't bother me much, but some people I showed the car to were baffled by how much space was being devoted to seating "just" six people. Also, the space between the second row seats isn't used for console storage. Or anything else, that I could tell. That does seem like a waste.
At almost 17 feet, the R takes up about as much space as a large SUV. The fact that the R carries that length close to the ground makes maneuvering it in tight spaces much easier, though. Visibility is excellent all the way around and, since you're looking straight at other cars rather than over them, you can tell how much room you've got as you maneuver into a parking space.
On a long interstate cruise, where the R-class is most in its element, it makes a nicely luxurious cruiser with plenty of room to stretch out. Given its overall size, luggage space seems puny with the third row up, but it's more than ample in four-seat mode.
Pushing it
On curvy roads, the R feels a little strange at first. It's just odd having the back wheels so far behind you. Punching the "sport" mode button for the suspension settings brings body movements under tight control. From the driver's seat, it feels genuinely car-like. Full-time all-wheel-drive helps keep everything in line in and out of winding turns. The tires squeal a bit too easily, though, signaling a need for grippier treads.
The R-500's V-8 engine and seven speed automatic transmission make for a really lively pair. The power comes on early and just keeps on coming. Gear shifts are seamlessly smooth.
As with all Mercedes-Benz cars, control interfaces all needlessly complicated and, to put it politely, counter-intuitive. (Yes, I did take the time to sit and figure it all out and, no, I am not one of those people who can't get the pictures off his digital camera, thank you very much.)
It's too soon to tell with the new Mercedes-Benz SUVs, but reliability has been an issue in the recent past with Mercedes cars. Among European carmakers, they are hardly alone in that.
The version I drove, the R-500, had a starting sticker price of about $55,500. (The R-350, which has a smaller V-6 engine, starts at about $49,000.) With options like the giant sunroof and an upgraded stereo the car I tested costs about $67,000. Still, it didn't include two of my favorite options, a rear seat entertainment system (Happy kids mean happy drivers!) and dynamic cruise control, which allows you to set a speed and a following distance so that your speed can automatically adjusts to traffic flow.
Still, I would happily open that big sunroof again and just sail on.
Mercedes-Benz R-class details and photos