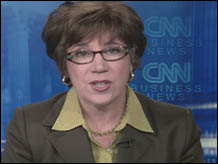 CNN's Kathleen Hays reports on what you can expect with the increasing heating cost this winter. (October 12)
Play video

NEW YORK (CNN/Money) - A government report issued Wednesday predicts large jumps in heating bills for Americans this winter and continued high oil prices in 2006 due to slightly colder temperatures and the continuing impact of hurricanes Katrina and Rita on the nation's energy production.
The Energy Information Administration (EIA) estimates that heating bills for all fuel types will cost Americans about one-third more this winter on average, assuming typical weather. A colder-than-normal winter could lift energy prices nearly 50 percent.
The 55 percent of Americans who use natural gas to heat their homes could see even greater sticker shock when they get their fuel bills, the agency warned. (See correction).
It sees the cost to heat by gas rising 47.6 percent in the case of typical weather to $1,096, and by more than two-thirds to $1,242 in case of colder-than-expected weather.
Even a warmer-than-expected winter will see natural gas heating bills rise 29.8 percent to $964, according to forecasts.
Households that primarily heat their homes with electricity however, can expect to pay about 5 percent more on average compared to last year, the agency said.
Even though the National Oceanographic and Atmospheric Administration is predicting that the 2005-2006 winter will be for warmer-than-normal across much of the central and western United States, forecasters are predicting slightly colder temperatures than last season based on heating degree-days, the EIA said in its report.
"The National Oceanographic and Atmospheric Administration projects a 0.4 percent colder winter in the lower 48 states, in terms of heating degree-days relative to normal winter weather, which would be 3.2 percent colder than last winter," the EIA said in its annual winter fuels outlook report.
Heating degree days are calculated by the difference between 65 degrees Fahrenheit and the average of the high and low temperatures of a particular winter day. The calculation indicates household energy consumption for space heating.
NOAA forecasters expect the Midwest and East Coast to have "equal chances" of warmer, cooler or near-normal temperatures in December, January and February.
The EIA also reported Wednesday that one-third of U.S. crude oil and 21 percent of natural gas output in the Gulf of Mexico will still be shut-in during December due to disruptions caused by Katrina and Rita.
Seven oil refineries that can process 1.9 million barrels per day of crude remained offline after the storms. Those plants represent about 11 percent of total U.S. refining capacity, the agency said.
"Complete recovery of energy infrastructure from hurricane damage will take many months. However, considerable recovery should occur by the end of 2005," the agency told Reuters.
The agency anticipated that the average price of a barrel of oil will be about $64 to $65 in 2006, up from the $58 a barrel average expected for this full year.
Separately, the EIA said gasoline inventories, which are currently tight, should improve as the heating season progresses. "However, an abnormally cold winter could discourage gasoline output and tighten supplies for next spring," the agency said.
Gas prices peaked at $3.057 on Labor Day in the wake of Hurricane Katrina and have fluctuated since, falling as low as $2.755 a gallon on Sept. 22, according to the daily reports issued by the travel club AAA.
The nationwide average for regular unleaded gasoline fell nearly two cents a gallon Wednesday to $2.854 a gallon from $2.871, according to AAA.
A year ago, the average cost of a gallon of regular unleaded gasoline was $1.972, AAA reported.
Correction: An earlier version of this story misstated the percentage of Americans heating with natural gas. We regret the error. (Return to story).
-- from staff and wire reports
________________
What's with prices at the pump? Click here.
Click here for CNN/Money's special report 'Oil Crunch 2005'.