Plus: A look at the future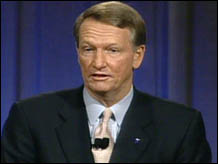 Rick Wagoner, GM chairman and CEO, talks about reaching an agreement with United Auto Workers to cut costs. (October 17)
Play video

NEW YORK (CNN/Money) - General Motors Corp. announced an agreement Monday with the United Auto Workers union that the troubled automaker says will save billions in health care costs.
Under the deal, reached late Sunday, GM's health-care costs for union members, retirees and their families will be reduced by about $1 billion a year, the world's largest automaker said. It is now spending about $5.6 billion a year on health care costs for both active and retired employees and their families, although that number includes spending on salaried staff not covered by this agreement.
GM said that in addition, health-care liabilities on its balance sheet will be slashed by about $15 billion, or 25 percent of what it expects to spend on hourly-employee and retiree health care costs going forward, under the agreement.
The announcement sent GM (up $2.11 to $30.09, Research) shares up as much as 12.6 percent in early trading, despite its much larger-than-expected third-quarter loss Monday (full story). But shares settled into a gain of less than 6 percent by late afternoon.
The company did not specify the changes in health care coverage for its union workers, and the company said the ratification of the agreement by the union is needed. It covers about 750,000 UAW-represented employees, retired UAW members and their families and survivors.
Details of the ratification process were not immediately available. UAW president Ron Gettelfinger and Richard Shoemaker, who led the union's negotiations with GM, said in a statement, "We believe [the agreement] is clearly in the best interests of UAW GM active workers, retirees and their families," according to Reuters.
While GM is only saving $1 billion a year in health care spending under the agreement, the tentative deal will reduce costs on its annual profit-and-loss statement by $3 billion on a pre-tax basis. That's because the company must account for not only what it costs to cover current employees, but what it expects to pay for health insurance after they retire.
Retiree health care costs have become a major competitive burden for the automaker, adding thousands of dollars per vehicle. Of the estimated $5.6 billion GM is spending on health care this year, about $4 billion is spent to cover retirees and their families.
GM's contract with the UAW also had members and retirees paying very little out of pocket for health care, giving them little incentive to control costs, said Walter McManus, an auto industry expert at the University of Michigan.
"It's tough to tell, but it sounds like they're getting what they needed on health care," said McManus. "The question is what is GM giving back to the union to get this. We may not know that for a while."
But most stock analysts seemed unpersuaded. The only analyst to immediately upgrade the stock was Brett Hoselston of Keybanc Capital Markets/McDonald, and he only upgraded the stock to a "hold" rating.
"While we continue to believe that GM is facing substantial challenges as it attempts to restructure its business, we are encouraged by the significant concessions that it has been able to tentatively achieve," said Hoselston in his note.
Analyst Ron Tadross, with Banc of America Securities, put out a note to clients keeping a sell recommendation on GM stock, saying the agreement with the UAW was only about what he was expecting.
"We believe there's a possibility the UAW might not have to open the contract (to approve the changes), which would signify the limited extent of the concessions," he wrote in a note to clients. Tadross wrote last week that he believed the chance of an eventual bankruptcy filing at GM now stood at about 30 percent.
GM has been seeking to limit health care costs in negotiations with the UAW since early this year. The automaker has called cutting health care costs key to restoring profits at its core North American auto operations.
"While it may have taken some time to reach this solution, I think it was time very well spent," said GM Chairman and CEO Richard Wagoner in a presentation to GM employees Monday morning.
But even he admitted the health care cost reductions were not enough to turn around the troubled automaker.
"This is a very big step forward, we will build on it as we move to the future," he said.
More steps needed
Even with the agreement on health care costs, GM will need further steps to return to profitability.
The world's No. 1 automaker said it lost $1.1 billion, or $1.92 a share, in the third quarter, excluding special items, compared with income of $315 million, or 56 cents a share a year earlier. Analysts surveyed by earnings tracker First Call were looking for a loss of 87 cents a share.
The company also announced it is looking at possibly selling a majority stake in its finance unit, GMAC, by far its most profitable operation, to help restore its tarnished credit rating. Wagoner said he was exploring a sale of a controlling stake due to the increased cost of capital for GMAC that resulted from a cut in GM's bond rating.
He said GM had an internal list of potential buyers and that any one of them would be a "strategic partner" in GM's finance business going forward.
The sale, giving up one of its few sources of strong profits, is not a step GM wanted to take.
Through the first three quarters of 2005, GMAC had net income of $2.2 billion, essentially unchanged from a year ago even with the increased cost of capital and rising interest rates. That came as GM's overall auto operations posted a net loss of $3.9 billion.
GM said it is also on course to cut supplier purchases. Monday it said it expects $5 billion in overall annual savings by the end of next year from lower health care costs, savings on parts purchases and other moves.
In June, the company announced it would cut 25,000 jobs held by UAW members and close an unspecified number of plants over the next 3-1/2 years. But it is depending upon retirement rather than layoffs to trim most of those jobs.
GM has about 111,000 union workers, most of them members of the UAW.
Financier Kirk Kerkorian has bought more than a seven percent stake in the company this year, although he has not yet placed any demands on the company for changes in direction. A spokeswoman for Kerkorian and his investment group said he had no comment on Monday's news.
Bankruptcy risks
Besides the health care costs and recent drop in sales, GM faces troubles because its former parts unit, Delphi, filed for bankruptcy on Oct. 8.
GM said that under the agreement with the UAW on health care costs, the potential tab for GM from the Delphi bankruptcy was now as much as $12 billion, up from its previous estimate of $11 billion. But Wagoner said again Monday that it was too soon to assess the final impact.
Asked about speculation that GM might eventually follow Delphi into bankruptcy, Wagoner declined to comment.
"I don't think we've ever indicated we considered it an option," he said in response to a reporter's question, saying talk of bankruptcy is just speculation. "It's not appropriate for us to comment on."
For more on GM's third quarter loss, click here.
For more news about autos and the auto industry, click here.