The Senate hearing awaits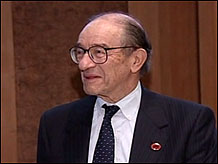 CNN's Jim Boulden looks at retiring Federal Reserve Chairman Alan Greenspan's impact on global and U.S. markets. (October 25)
Play video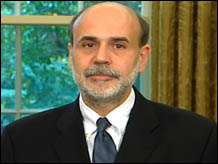 President Bush nominates his chief economic adviser, Ben Bernanke, to succeed Alan Greenspan as Federal Reserve Chairman. (October 24)
Play video

NEW YORK (CNN/Money) – Alan Greenspan's tenure as chairman of the Federal Reserve is drawing to a close...and with that, the Fed's current cycle of raising interest rates may be nearing an end as well.
The Federal Reserve's monetary policy committee will meet on November 1 and most investors expect the central bank to raise the target on a key short-term rate by a quarter of a percentage point for the twelfth consecutive time since June 2004. The Fed has been raising rates in order to keep inflation at bay.
According to the widely watched Fed funds future contracts on the Chicago Board of Trade, investors are pricing in a 98 percent chance of another quarter-point hike. Such a move would bring the federal funds rate to 4 percent, its highest level since April 2001.
But as has often been the case with recent Fed meetings, the market will care more about what the Fed says, not what it does. "There are no doubts about the decision and the focus will be on the statement like it's been for the past 18 months," said Richard Batley an economist with Schroders Investment Management in London
With that in mind, some economists and strategists think the Fed hinted in the minutes of its last meeting about what its intentions are for the coming year.
Retirement party for "measured?"
With Greenspan's term set to end on January 31, there is rising hope that the Fed may finally be prepared to remove the statement about how it plans to raise interest rates at "a pace that is likely to be measured."
"I'm hoping that Greenspan will see it in his wisdom to say, 'Okay, I'm going to put the brakes on and let the new Fed digest this economic data'," said Andrew Corn, chief executive officer Clear Asset Management, a New York-based institutional money management firm. "Changing the 'measured' sentence would have the right effect."
Corn argues that despite recent increases in the prices of oil and food, consumers have yet to get hit hard by price increases of other types of goods.
"The price of a T-shirt at The Gap has not gone up drastically. Maybe people are buying it at the Gap.com because they don't want to drive to the mall. But a lot of inflation is due to energy and that is an anomaly," Corn said.
Another money manager also thinks that the Fed should get rid of the measured language since there is simply not enough evidence to suggest that inflation is a major economic threat.
"There is some inflation in the market but it's still at a moderate level and in a mildly expanding economy that's not a problem," said Michael Crofton, president and chief executive officer of Philadelphia Trust, an asset management firm. "There is a need for the Fed to be vigilant and raise interest rates but they can start to take their foot off the pedal."
Crofton argues that getting rid of "measured" would also give Greenspan's likely successor, Ben Bernanke more flexibility. Bernanke, currently President Bush's chief economic advisor and a former Fed governor, was selected by Bush on Monday to take over the Fed and he is widely expected to sail through the requisite Senate approval hearings.
Bernanke has pledged to continue Greenspan's policy of preemptively fighting inflation with interest rate hikes when necessary. But he also has been a proponent of so-called inflation targets, meaning that the Fed would alter monetary policy in order to attain a specified rate of inflation.
A numerical target, some argue, could make it even easier for the markets to predict what the Fed will do. That could eliminate the need for terms like "measured."
"Inflation targets would be a good idea," said Marvin Goodfriend, professor of economics at the Tepper School of Business at Carnegie Mellon and a former policy advisor at the Federal Reserve Bank of Richmond.
"There has been an evolution in the ability of central bankers and economists in explaining monetary policy and as leadership moves to a younger generation I would expect that to continue. Clearly, Bernanke is a person who has made communication skills very important," Goodfriend added.
Conundrum solved?
Some also think that the Fed's work is mostly done, not just because inflation remains a minimal concern but because the yield on the U.S. 10-year Treasury is now above 4.5 percent, up from about 4 percent at the beginning of September.
Fed members, most notably Greenspan, expressed concerns this year about the fact that longer-term rates have remained stubbornly low. Greenspan went as far to call the phenomenon a "conundrum."
Low long-term rates fueled worries that the housing market would overheat (and eventually collapse) since long-term rates have a direct impact on mortgage rates. It also raised fears that the yield curve, or difference between short-term rates and long-term rates, would soon invert, meaning that short-term rates exceed long-term rates. This has often been a precursor to a recession.
The recent uptick in long-term rates, though, would appear to decrease the likelihood of an inverted yield curve and also could cause the housing market to cool in a more gradual fashion.
Finally, the simple fact that the Fed has already raised rates by nearly 3 percentage points since last year could mean that it will soon be time for the Fed to pause, or at least change the wording of the statement to suggest that a pause is in the cards soon.
Schroders' Batley pointed out that the Fed may have already tipped its hand about a language change in the minutes of its September 20 meeting. He was referring to the penultimate paragraph of those minutes, in which the Fed said "sentiment was expressed to consider changes to forward-looking aspects of the statement at upcoming meetings, in part because of the considerable reduction in monetary policy accommodation that had already been accomplished."
"Rates aren't at 1 percent anymore. They are much closer to what people would consider a neutral level so the statement should reflect that," said Batley.
-------------------------------------------------------------------------------------------------------
To read why bond guru Bill Gross thinks the Fed will pause soon, click here.
For a look at bonds and rates, click here.