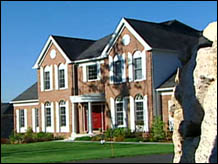 Luxury homebuilder Toll Brothers warns of weaker 2006. CNN's Andy Serwer reports. (November 9)
Play video

NEW YORK (CNN/Money) - Toll Bros. stock took a hit this week, but executives at the company were able to avoid some of the pain through stock sales earlier in the year, a newspaper reported Wednesday.
On Tuesday, the luxury homebuilder warned that new home deliveries and earnings next year would probably fall short of its expectations, and Toll Brothers (up $0.09 to $34.00, Research) shares tumbled 14 percent on the news.
The Horsham, Pa.-based homebuilder cut the number of homes it expects to complete next year to 9,500 to 10,200 homes. The company had earlier forecast 10,200 to 10,600 homes.
The warning took Wall St. by surprise. CEO Robert Toll had said as recently as last month that housing market fundamentals looked strong through 2010. "That's pretty good moving and grooving," he told USA Today in an interview on Oct. 3.
Fortunately for some executives, some summertime selling helped cushion the blow from Tuesday's sell-off, USA Today reported Wednesday.
CEO Robert Toll sold approximately 1.5 million shares worth nearly $100 million in July, the newspaper reported, citing filings with regulators. He still owns 23.7 million shares, or about 15 percent of the outstanding shares, it added.
Vice Chairman Bruce Toll also sold 687,700 shares worth $52.2 million in July, the report said, noting he still owns 11.9 million shares, or about 8 percent of the stock.
And other executives sold 250,000 shares worth $14.2 million that month, the paper said.
Since shares of Toll Brothers hit a 52-week high on July 20, the stock has fallen 68 percent.
Bruce Toll's selling was part of a longstanding strategy to diversify his holdings, CFO Joel Rassman told the paper. Senior executives at many companies often have such divestment programs.
Insiders elsewhere in the industry were also selling. About 4.8 million shares of stock worth $333 million were sold by insiders in July, according to Thomson Financial.
---------------------------
For all of today's top stories, click here.