With a strong recruitment push, higher salaries and in some cases, multiple job offers, all signs are pointing up for the class of 2006.
NEW YORK (CNNMoney.com) - Class of 2006...prepare to flip your tassel with confidence. The way things look right now, the nearly 1.5 million college seniors expecting to graduate this spring are set.
Recruiters are reportedly fighting for space at campus career fairs, according to college career offices. And employers are expected to hire 14.5 percent more graduates this year, according the National Association of Colleges and Employers (NACE).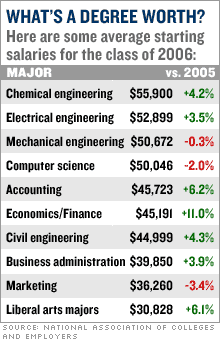 Best Companies to Work for
"We looked back and this was best year in the past three or four years," said Andrea Koncz, a spokesperson for the NACE.
Maybe the best indicator of the strength is the number of recruiters that have flooded college campuses.
"This year we've had 23 percent more companies on campus in the fall than we did last year," said Donna Goldfeder, director of career services at Lehigh University, which graduates approximately 1,000 seniors every year.
Recruitment efforts have even been so strong that at Washington University in St. Louis and at the University of Texas at Austin, officials reported they could not accommodate every recruiter.
Velma Arney, who oversees 4,500 undergrads as the director of career services at Texas' McCombs School of Business, said "we were booked very early and we knew it was going to be a strong [recruiting] year."
In addition to increasing their visibility on campuses, recruiters have also been trying to lock up talent earlier, according to Terry LaMarco, the associate director of the career center at the University of Michigan's College of Literature, Science, and the Arts.
This year, more students are even finding themselves in the enviable position of deciding between a handful of job offers, according to Mark Smith, the director of the career center at Washington University.
"We had some students with offers in the fall who are shopping around," said Smith. "That's a great position to be in when you're 22-years old."
Hot fields
So who's cleaning up?
Like most years, engineers have been in high demand, while finance and accounting degrees are also getting their fair share of offers.
While those students tend to be in specialized fields such as information system management or civil engineering, there is hope for English majors too.
Nowadays, career counselors say companies are taking a good look at the liberal arts field for candidates who have the ability to communicate, lead, think critically or simply adjust to the job demands.
From a sector perspective, the federal government is expected to be one of the most ambitious employers, hiring 22.8 percent more college grads this year, followed by the service industry which is projecting a 21.6 percent increase.
Money isn't everything
When it comes to that paycheck, grads should take comfort that they are probably going to get paid a little bit more than the class of 2005.
NACE's recent quarterly salary survey revealed that the starting salaries offered so far are on the rise, with chemical engineering, electrical engineering taking the top two spots.
Even liberal arts majors should, on average, get paid $30,828, 6.1 percent more that last year's class.
But with the upbeat outlook for this year's graduating class, college counselors say a salary is no longer the most important factor when it comes time to picking a job.
Brad Dudley, the director of Pepperdine University's Seaver College career center, says his seniors are interested in finding a place that matches their personality. "The comment I hear most often from students is they want to work for companies that share their values," said Dudley.
And, adds Texas' Arney, that includes finding a place that provides adequate benefits and allows a balance between work and personal life. "Yesterday they needed the money," said Arney. "But today it's all about the whole package."
_________________
What are professors making these days? Click here.
The 10 most expensive colleges -- click here.